Sajith defies Ranil, attacks US resolution
Posted by Editor on March 13, 2012 - 7:38 am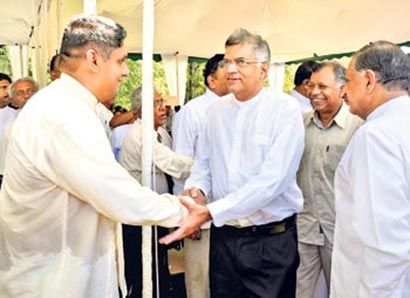 In the wake of UNP leader Ranil Wickremesinghe's decision to remain noncommittal on the current United Nations Human Rights Council (UNHRC) sessions in Geneva, where the government is battling a US-led resolution, UNP Deputy Leader Sajith Premadasa says that there is absolutely no basis for Western efforts to confront Sri Lanka over alleged accountability issues.
Responding to a query by The Island, MP Premadasa yesterday said that those pursuing Sri Lanka on the human rights front had conveniently forgotten that they could intervene in affairs of a member state only when international peace and security were threatened. In fact Sri Lanka had eradicated a terrorist group, which posed a grave danger to global security, particularly international shipping routes, the Hambantota District MP said. Had the situation in Sri Lanka got out of hand, the international community would have faced a situation similar to the crisis in Somali waters, where several powerful navies were struggling to contain pirates, he said. The global community should appreciate Sri Lanka's efforts against terrorism, particularly in the wake of 9/11, he said.
The UNP reformist group would take a strong pro-Sri Lanka position in the face of what he called unsubstantiated allegations made by interested parties.
Political sources said that the UNP was sharply divided over the Geneva issue, with the Reformists wanting to oppose Western interference.
Premadasa said: "We are a sovereign country. Our territorial integrity, sovereignty and political independence cannot be undermined on the pretext of protecting human rights."
Asked whether he was speaking on behalf of the party, MP Premadasa said that he couldn't keep quiet when an obvious attempt was being made to destabilise the country and cause chaos. Due to negligence, waste and corruption, those struggling to make ends meet hadn't received any tangible assistance, though the war had ended almost three years back, he said.
MP Premadasa said that the Rajapaksa administration had failed to alleviate the sufferings of the poor.
Referring to the US-resolution, the UNP Deputy Leader said that there couldn't be any moral or legal justification for any country or a group of countries to intervene in Sri Lanka.
The MP said that Sri Lanka's war against terrorism shouldn't be a political issue, whatever the differences they had with the government. The country had no option but to defeat the LTTE through military means as it rejected efforts made by successive governments to settle the national issue, he said. "Don't forget the LTTE quit the negotiating table in April 2003 after six rounds of talks at various overseas venues. Only the LTTE could have avoided war. The majority of those upset about Sri Lanka's success did nothing to avert war. None of them at least bothered to issue press statements condemning the LTTE for withdrawing from the Norwegian-led peace process in April 2003 or opposed the use of children as cannon fodder."
Courtesy: The Island
Latest Headlines in Sri Lanka