Five more Government MP's to back Maithripala?
Posted by Editor on December 7, 2014 - 9:16 am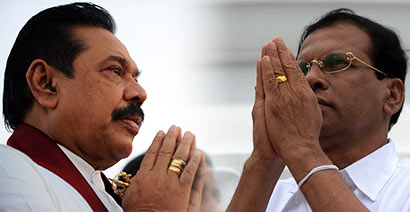 At least five more government MP's are expected to defect to the Joint Opposition Front (JOF) this week, informed sources said yesterday.
They are among the initial group of 23 UPFA MP's, some of whom are Ministers, who were due to cross over with former Health Minister Maithripala Srisena.
Meanwhile, it is learnt that the leader of the 23-member group who had negotiated with the JOF for Srisena to be appointed its Presidential candidate, had for several reasons decided to remain in the government.
However, the sources said that the Minister concerned was disgusted with the manner in which his ministerial powers had been clipped and was not expected to throw his weight behind President Mahinda Rajapaksa's re-election bid.
(Source: The Island)
Latest Headlines in Sri Lanka