Flood assistance: UN lauds Government
Posted by Editor on January 22, 2011 - 10:53 am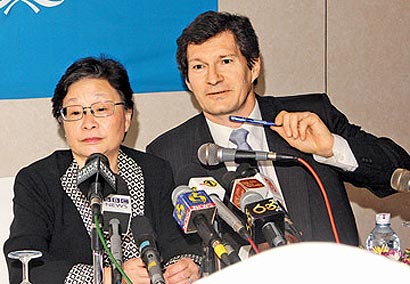 The United Nations yesterday lauded the Government's efforts in assisting the people who were affected by floods in the Eastern, North Central and Central Provinces.
UN Assistant Secretary General for Humanitarian Affairs and Deputy Emergency Relief Coordinator Catherine Bragg addressing the media at the conclusion of a three day visit to Sri Lanka, said the Government's response towards assisting the people affected by the floods was extremely good.
Bragg said the UN made a flash appeal for a US $ 61 million emergency fund for the flood-hit people in the Eastern and Central provinces.
She also announced US $ 6 million contribution from the UN's Central Emergency Response Fund for the commencement of priority projects.
The UN Deputy Humanitarian Chief also said that she met several Senior Ministers and Government officials and discussed humanitarian needs among other issues.
Bragg said she met Economic Development Minister Basil Rajapaksa, Defence Secretary Gotabhaya Rajapaksa and Disaster Management Minister Mahinda Amaraweera and discussed humanitarian assistance programs.
She reiterated that the UN is committed to continuing humanitarian assistance work as an when it is required. She stressed the importance of having a more closer partnership between UN agencies and Local Government bodies.
She said the country needs immediate humanitarian needs.
Bragg commended the progress achieved by the Government in resettling people who were displaced by terrorist atrocities in the North.
Only 20,000 out of 280,000 people who were driven out of their houses are in camps.
She said the Government deserves commendation for initiating infrastructure development projects in the North and reaffirmed the UN's continuous assistance to rebuild the North.
Bragg also visited the North, particularly the Mullaitivu district and met the resettled people.
UN's Sri Lanka Coordinator Neil Buhne told the media that a number of Mine Action groups are working in the Northern region and the largest group is from the Sri Lanka Army.
Demining groups from India and various other countries are working in the North and focus is on clearing of mines in the settled areas.
He said the mine clearance is a long term process and priority has been given to clear mines in the areas where people had lived.
Source: Daily News
Latest Headlines in Sri Lanka