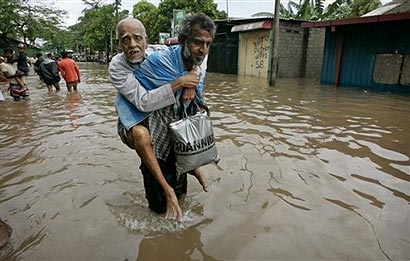 Floods following the heaviest rains in 18 years displaced at least 200,000 people in the Western Province.
Many roads in Colombo and the suburbs were inundated bringing traffic to a standstill at times and severely affecting day-to- day activities of the public.
The Colombo district experienced 440.2 mm rainfall from 7.00 pm Wednesday to 7.00 am Thursday, considered as the highest since June 04, 1992 when it received a rainfall of 493.7 mm. Colombo Fort received its highest rainfall ever of 411.3 mm. Disaster Management Minister A H M Fowzie said that the Government had taken all measures to assist the affected.
Temporary shelters, medical facilities and food have been provided to the displaced, he added.
According to the Minister the Government has allocated Rs 20 million to assist the affected in the Western Province. More monies would be released when needed, he said.
However, no casualties or large scale damage to property were reported, according to Minister Fowzie.
The police instructed commuters to stay away from flooded roads yesterday morning. Motorists were urged to use public transport.
Several roads leading to Colombo City at Armour Street, Grand Pass, Dematagoda and parts of Piliyandala road were heavily flooded.
Railway officials said the morning railway services were delayed until the tracks were cleared from trees and other debris.
The Sri Lanka Navy deployed flood relief teams to assist hundreds of people displaced due to the flash floods.
Many schools mainly in the Western Province were closed. Term tests were postponed to later dates under the instruction of Education authorities.
Even the Parliament premises was under a few feet of water.
The Western Province bore the brunt of the heavy rains during the last 48 hours. Kalutara received 160.6 mm of rain.
Kurunegala (88.1 mm), Ratnapura (69.4 mm) and Galle (58.1 mm) were affected to a lesser degree. Meteorological Department Chief G B Samarasinghe yesterday predicted more thunder showers, specially in the evenings during the next couple of days.
He said that the severity of showers would be less.
However, on a more gloomy note the Meteorological Chief said that a low depression area was forming in the Bay of Bengal which may affect Sri Lanka by Monday or Tuesday.
He attributed the present conditions to an unstable atmospheric belt formed closer to Sri Lanka during inter monsoonal periods.
He said that due to this unstable atmospheric conditions it was very difficult to predict adverse weather accurately and added that this was the conditions experienced in tropical countries during the inter monsoonal periods.
Meanwhile Minister Fowzie said that he was confident that the floods in the city would recede fast and his Ministry had taken steps to clean city canals since floods last May.
He urged the affected public to call relevant authorities directly when in need. The Minister could be approached on mobile number 0712136266, the Deputy Minister 0777688690, Ministry Secretary 0777811805 or Disaster Management Emergency Operations Centre on 0773678900.
Courtesy: Daily News