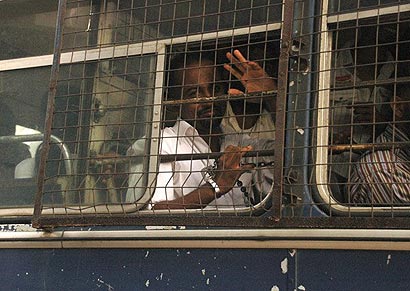 November 12, 2010: Udul Premaratne, Convenor of the Inter University Students' Federation (IUSF), was refused bail for the second occasion today by the Colombo Magistrate Rashmi Singappuli.
Lawyers appearing on behalf of Udul Premaratne told court that he had been invited to attend an international youth council to be held in South Africa. As their client had not committed an offence, the lawyers requested that Premaratne be granted bail.
The magistrate, observing that the reasons submitted were not sufficient to grant bail, remanded Premaratne further.
Meanwhile, the 21 university students, arrested and enlarged on bail, appeared before court today.
Attorney at law K. V. Thavarasa, pointing out that the offence allegedly committed by students is not mentioned anywhere in the B Report submitted by police, requested that they be released of their charges.
That request too was refused by the magistrate.
Courtesy: News First