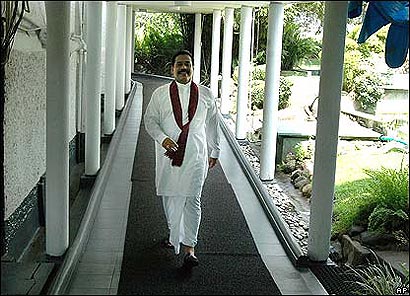 President Mahinda Rajapaksa has instructed officials to take stern action against those involved in animal torture.
The President gave these instructions when representatives of an anti animal torture organization met him recently.
President Mahinda Rajapaksa drew attention to the illegal transportation of cattle.
The President instructed the Livestock Development Ministry to take action to look after cattle which are seized while being illegally transported. On the advice of the President, protected areas will be designated for the cattle.
In addition to these initiatives, the Government presented regulations for Number 29 of the 1958 Animals' Act in Parliament recently.
The prime objective of the new regulations is to provide legal provisions to control the slaughter, transporting, branding and upgrading of animal breed.
According to law, animals should be transported with least harassment. Besides, the new regulation will provide legal provisions for claiming animal ownership use of easy methods of identification such as ear tagging in place of branding for identification of cattle, establishing animal care and monitoring centres and so on.
Daily News