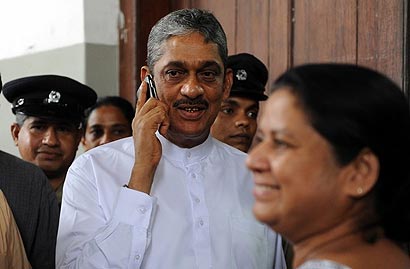 DM Online – By Jamila Najmuddin – (Pix: Getty images)
DNA Leader General Sarath Fonseka has rejected an offer to join the UNP after an invitation was extended to him by UNP Deputy Leader Karu Jayasuriya last week, DNA MP Vijitha Herath told Daily Mirror online.
Herath said that the General who was not even considering the invitation had not even been approached by any UNP members so far.
"The only invitation which was extended was by UNP Deputy Leader Karu Jayasuirya. It was an open invitation which he issued when Mangala Samaraweera joined the UNP last week. The General has not personally heard from any UNP members," Herath said.
When questioned if the General would hold discussions with the UNP if a personal invitation was made, Herath said that the General would not even consider it.
"These are all false rumours that the General might join the UNP. He is not even considering such a request," Herath said.
Deputy UNP Leader Karu Jayasuriya made an open invitation to the retired General at a ceremony held at 'Sirikotha' on Friday to welcome SLFP (M) Leader Mangala Samaraweera who joined the UNP.
During the ceremony Jayasuriya said all parties should get together to establish good governance.
(Daily Mirror online)