Fonseka to be given exercising facilities and kept in a suitable cell – HC
Posted by Editor on November 18, 2010 - 2:58 pm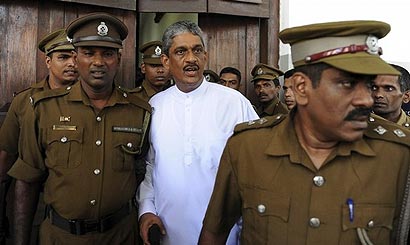 The Colombo High Court today rescheduled the 'White Flag' case to November 23 as Former Army Chief Sarath Fonseka was not present in court due to his ailment. The lawyers representing Fonseka told court that he had suddenly taken ill as a result of the injuries he sustained after the suicide attack.
The lawyer went on to say that some of the injuries Fonseka sustained to his intestine and lungs in the suicide attack had been aggravated owing to the fact that he had no facilities to exercise. The attorney also stated that after heavy showers the cell where Fonseka was being kept at Welikada had developed a leak causing the cell to be flooded.
The Three judge bench which examined the statement instructed the prison officials to provide facilities for Fonseka to exercise and also to house him in a suitable and a cell that does get wet during rainy days.
Courtesy: Ada Derana
Latest Headlines in Sri Lanka