Fonseka will be freed after Tiran's return
Posted by Editor on May 14, 2012 - 7:56 am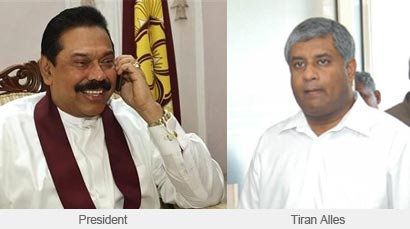 Gen. Sarath Fonseka will be released soon, as a result of President Mahinda Rajapaksa's one-on-one talks with Democratic National Alliance (DNA) MP Tiran Alles, according to authoritative government sources.
Asked whether former Army Commander's release would coincide with the third anniversary celebrations of Sri Lanka's victory over the LTTE on May 19, sources said Gen. Fonseka could leave Nawaloka hospital, where he was receiving treatment for a lung condition, as soon as MP Alles returned from an overseas visit. Sources revealed that the agreement on the defeated presidential candidate's release had been reached before Vesak but both sides had kept it under wraps to prevent the ongoing efforts to reach a settlement being jeopardised.MP Alles didn't respond to a query we posed to him via SMS. He was also not contactable over the phone. Government sources said that MP Alles had had several rounds talks with the President in the recent past, to discuss ways and means of securing Gen. Fonseka's release against the backdrop of protests by a section of the Opposition.
The government was reacting to speculative media reports on Sunday of the possibility of Gen. Fonseka, now serving a jail term, could be released within the next few days in view of his bail application the Supreme Court is scheduled to take up later this month.
Speculation was rife in political circles before the anniversary of the President's second term last November, the dawn of New Year and the Sinhala, the Tamil New Year and Vesak, that Gen. Fonseka would be released.
Gen. Fonseka is currently under treatment at the Nawaloka Hospital for a lung ailment, having obtained a court order to that effect.
His jail term technically ends ends July 2013.
The former Army Commander and his secretary, Capt. Senaka Haripriya de Silva have been indicted before the High Court for harbouring army deserters and the trial in this case is proceeding.
The UNP Reformists have welcomed MP Alles having talks with the President in a bid to negotiate for Gen. Fonseka's release.
Courtesy: The Island
Latest Headlines in Sri Lanka