Four mourners dead as van erupts in flames
Posted by Editor on January 27, 2012 - 7:18 am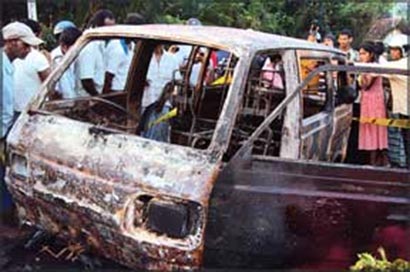 Four members of the same family were burnt to death and seven others were admitted to Nagoda hospital with burn inquiries when a small van carrying a group of mourners who had attended a funeral at Magalkanda, Maggona caught fire at Diyagama on the Kalutara-Horana Road shortly after midnight on Wednesday.
The deceased included the 56 year old father who drove the van, his 32 year old wife and their two children aged six and seven years. Eleven people who are all relatives had travelled in the van. An eyewitness, W. Susantha Vipula Kumara said he rushed to the scene after hearing the sound of an explosion on the road about 20 minutes after midnight on Wednesday and saw a van on fire.
Soon several others rushed to the scene and attempts made by them to douse the fire proved futile. Kalutara Chief Magistrate Aruna Aluthge visited the spot yesterday morning and held the inquiry into the deaths.
Police investigating the incident were trying to ascertain the cause for the fire.
Courtesy: Daily News
Latest Headlines in Sri Lanka