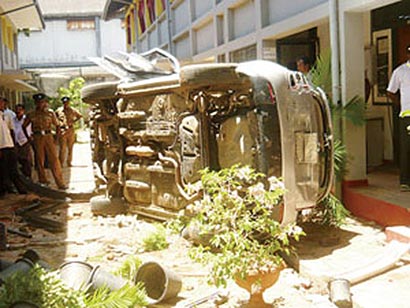 Galle Police who are investigating the violent attack on the newly appointed Principal of Vidyaloka Vidyalaya, Galle on Monday had not been able to arrest the persons connected to the incident so far, police spokesman told The Island yesterday.
Asked why the police had failed to make any arrests, SSP Ajith Rohana said that the police were scrutinising the video footage of the incident to identify those responsible for the incident.
Asked whether they had any plan to arrest students who had pelted stones at the principal and policemen, who came to the rescue of the former, he said that the police had not taken any such decision so far but they would definitely enforce the law against all those who instigated the attack on the principal and his car worth Rs. 4.5 million inside the school.
The school was turned into a battlefield as a group of students attacked the new principal, Bandula Jayasinghe, with stones and damaged his car and then overturned it, while another group attempted to protect him.
The newly appointed Principal told The Island, that it was the responsibility and duty of the police to take necessary action against persons who had misled the innocent students to resort to violence.
He said that in a detailed statement to the police yesterday, he had identified two individuals, a politician in robes, and the acting principal who held office until his appointment as the persons responsible for Monday's incident.
He thanked the police officers who had escorted him in and out of the school amidst violent attacks and sustained injuries in trying to protect him.
Courtesy: The Island