India's one-run win not big enough to qualify
Posted by Editor on October 3, 2012 - 6:56 am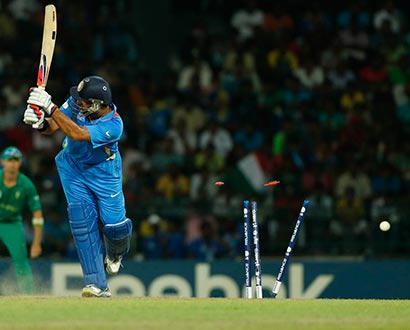 India 152 for 6 (Raina 45, Peterson 2-25, M Morkel 2-28) beat South Africa 151 (Du Plessis 65, Zaheer 3-22, Yuvraj 2-23)
South Africa have had a few of their parties cruelly crashed by teams world over, but today they spoiled India's when it was only a small gathering. Having been knocked out of the World Twenty20 because Pakistan beat Australia, South Africa won the toss India wanted to win most, kept India down to 152, and passed 121, ensuring India would be eliminated from the tournament on net run rate.
India would have loved to chase and know what they needed to do with the bat to push their net run rate of -0.452 over Pakistan's 0.273, who are now through to the semi-final. However, batting first, all India could hope of doing was set up a huge total and try to win by a margin of around 30. South Africa's bowling, though, was too strong to clobber.
It was not all fun and games for South Africa either. Faf du Plessis laid bare the flaws in their strategy in the games leading up to their final inconsequential match. Watching du Plessis score a fluent 65 off 38, South Africa's think tank would have felt a surge of mixed emotions. After du Plessis got out, all but ensuring India's ouster, that think tank would have watched in horror as the last five wickets fell for 24 runs and South Africa lost by one run. Another heartbreaking loss ended arguably their worst campaign at a World Cup, across formats. It was Gary Kirsten's ninth defeat in nine matches as coach in World Twenty20 Super Eights.
The scenes towards the end were in contrast to the ones seen after the day's first match at the venue. After that game, both Australia – assured of semi-final qualification – and Pakistan – very close to it – went off smiling, never mind the actual result. Both India and South Africa were dejected, never mind the result.
After their innings, however, India had given themselves a decent chance of staying alive, thanks to a Suresh Raina-led recovery from 36 for 3. Around Raina, Yuvraj Singh hit 21 off 15 in the middle overs to boost India, and the finishing touches were provided by MS Dhoni, who squeezed out an unbeaten 23 off 13 in his unorthodox way.
India's openers looked too keen to hit, and fell inside the Powerplay. Morne Morkel's disconcerting length got Gautam Gambhir to play on. Virender Sehwag hit Robin Peterson for a six, but swung all around an even slower delivery to lose his off stump the next ball. In between those wickets, Virat Kohli was dismissed, strangled down the leg side by Jacques Kallis.
Yuvraj then displayed the silken touch he had before he left the game with illness, lofting two of the better-timed sixes. He got too ambitious, though, trying to whip a full Morkel delivery from the off-stump line and was bowled. Rohit Sharma once again scored a disappointing 25 off 27 before falling lbw to a poor sweep.
Raina, though, looked good right from the start, and played good-looking extra-cover drives to give India some momentum. Dhoni joined him with brute power, and the two combined to take an even 40 off the last four overs. Given the way their spinners have performed in the tournament, India would have entertained thoughts of the improbable, but they bowled six overs of seam at the top of the innings.
They took two early wickets when South Africa were tentative, but once the industrious du Plessis began charging at Zaheer and Irfan, the zing was lost. Yuvraj revived India's hopes with a wicket first ball, but du Plessis was batting on a different plane. Every shot he played seemed to yield results, and the odd mis-hit would find a way to go for couples. India's fielding didn't help.
Once du Plessis fell with the score at 95 for 4 in the 13th over, though, India were hoping for one of those infamous South African collapses. And they were just hoping, which showed in the defensive fields and Ashwin being kept for three overs out of the last seven, when there was practically nothing left to play for.
The collapse arrived, but it was too late for India. In the 17th over, with wickets falling, South Africa reached 122, much to the joy of the thousands of Pakistan supporters in the ground.
The game took a surreal turn after that. So close run it was, yet so devoid of edge. It came down to 14 required off the last over. Balaji bowled length; Albie Morkel smacked him for six, and was bowled next ball. Albie's younger brother Morne was the No. 11. He got a long hop from Balaji, and deposited it in the stands. India were about to lose this one, this was to be a dreadful evening for them. However, the final mistake was South Africa's, and Morne Morkel missed a straight length ball and was bowled.
ESPN Cric Info
Latest Headlines in Sri Lanka