Garbage dump fire blankets Badulla with methane gas
Posted by Editor on October 12, 2016 - 9:00 am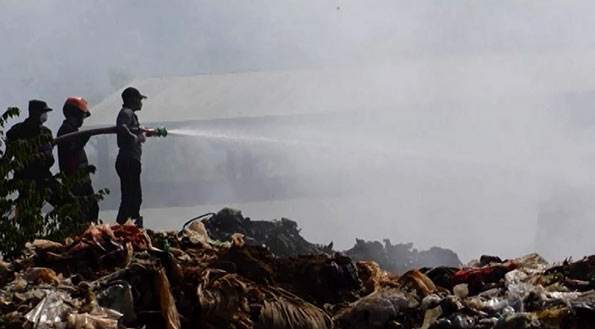 The Badulla area was blanketed by methane gas owing to a fire that erupted in a garbage dump a couple of days ago. A fire erupted in close proximity to a garbage recycling unit carried out by the Badulla Municipal Council.
As the dousing of the fire was a tedious task, a helicopter of the SL Air-force was deployed, based on the instructions of the President.
However, authorities have not been able to contain the smoke emitting from the garbage dump due to the burning of polythene and similar substances.
The Uva Provincial Department of Education has decided to temporarily close eight schools in Badulla until Friday, October 14 owing to the toxic gases being emitted.
The list of schools are:
Badulla Dharmadutha College
Uva Maha Vidyalaya
Viharamaha devi Girls' School
Badulla Central College
Visakha Girls School
Sujatha Girls School
Al Adam College
Al Isman Primary School
On Tuesday October 11, school children were forced to wear face masks  as they made their way to school.
According to the Badulla Base Hospital, around thirty individuals have already been treated for smoke inhalation.
Badulla District Chairman – GMOA Dr. Palitha Rajapaksa said, plastics and polythene had been incinerated in the fire and gases such as methane and other hydrocarbons are being released.
He went on to note, dioxines could also be released as a result of this fire and these materials are carcinogenic and could cause respiratory issues, and when considering the geographical location of Badulla, it is located in an area similar to a basin so it takes a long time for the smoke to dissipate naturally.
"If you have symptoms such as breathing difficulties, Throat pain, eye irritation please come to the hospital and obtain treatment, do not treat yourselves at home", he added.
A resident claimed, the fire brigade in the Badulla area falls under the purview of the Badulla Municipal Council, if they had a keen interest , they would have doused the fire and that they believe the Municipal Council did not do so on purpose.
Another individual told the media that the mayor says that it is not the Municipal council who set fire, but another group of persons.
"However the Municipal Council has been unable to douse the fire. What did the mayor do until the garbage was burned. We like to know how the commissioner of the Municipality is responsible for this? The issue should be brought up to the attention of the necessary officials or else we will get on to the streets in protest", the individual added.
The Commissioner of Municipality Wijeysiri Randeniya was contacted regarding the issue, but he noted that he cannot make a comment.
(Source: News First)
Latest Headlines in Sri Lanka