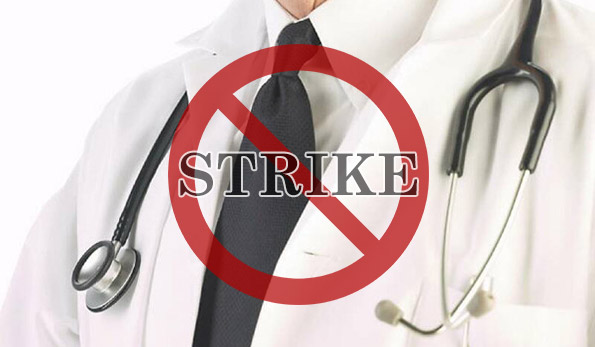 The Government Medical Officers' Association (GMOA) yesterday announced that it would join over 18 other professional unions to stage a countrywide token strike today (03) to force the government to abandon plans to downgrade the public service.
The GMOA decision follows Minister of Health and Indigenous Medicine, Dr Rajitha Senaratne's abortive bid to sort out the issue through negotiations.
Addressing the media at the OPA Auditorium in Colombo, General Secretary of the GMOA, Dr. Nalinda Herath said steps would be taken to maintain emergency and accident services at hospitals throughout the country. He said that the Lady Ridgeway, Colombo and Sirimavo Bandaranaike Hospitals for Children in Peradeniya; De Soysa, Castle Street, Mahamodara and Kethumathi Maternity Hospitals, the Maharagama Cancer Institute and the Tellippalai Cancer Hospitals would be exempt from the strike.
He warned that OPD and clinic services of all hospitals would be crippled.
Discussions between the GMOA and the Health Minister at the latter's residence failed.
The GMOA which is a part of the Joint Committee of Executive Officers in All Island Services (JCEOAIS) called for the government to reverse its 2016 budgetary decision to scrap the non-contributory pension scheme and do away with the tax concessions and vehicle permits for doctors and other senior professional services. They urged the government to honour its pledge to increase basic salaries of senior officials and other categories in the government service.
GMOA Spokesman Dr. Naveen Soysa lambasted the government offer of Rs. 1 million each in lieu of vehicle permits with tax concessions. Neither the GMOA nor any of the other JCEOAIS was ready to compromise the privileges the professional categories in the public service had enjoyed.
"We won't settle for scraps the government throws," an annoyed Dr Soysa said, adding that the GMOA in its collaborative efforts was only trying to re-establish public workers' rights won after long struggles.
The JCEOAIS comprise unions of doctors, dental surgeons, Ayurveda doctors, administrators, surveyors, veterinary surgeons, veterinary research officers, teacher educators, accountants, architects, agriculturists et al.
(Source: The Island – By Dilanthi Jayamanne)