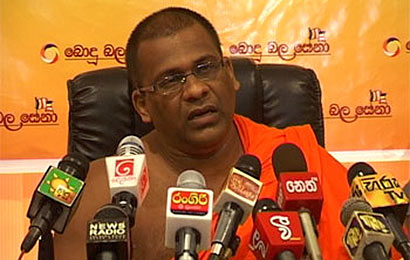 Bodu Bala Sena General Secretary Ven. Galagodaaththe Gnanasara Thera yesterday castigated the Opposition for pinning the blame on the Security Forces over last week's atrocities at Aluthgama and Baruwala.
"If the Opposition is trying to get the international community to pin the blame on the security forces for war crimes and the Aluthgama and Beruwala tragedies, that would be a national calamity," the Prelate told a news conference at the BBS headquarters yesterday.
" We all saw what happened and we all know what happened, and no one was insane, if anyone in the international community is trying to cause strife in the countr,y that would be a national disaster", he said.
He also said, there were certain factions who were attempting to create racial and religious tensions between the Sinhalese and Muslims and he had take up this matter with Muslim leaders.
He pointed out that "Despite Aluthgama and Beruwala having large Muslim populations, it was the Sinhala community which was generating 74% of the revenue that was generated in that area".
He said, if religious and racial extremism is not eradicated in those areas, he would advocate that not even a single inch of land should be given to Muslims of the area.
It is in that context I said, "Aba Sarani" to people of the area and what I meant was that if there was further violence, the Muslim shops in the area would be closed".
He also urged the JVP to engage in meritorious acts without wasting money or pelting stones.
"We have a long way to go and have to be patient", he said.
(Courtesy: Ceylon Today)