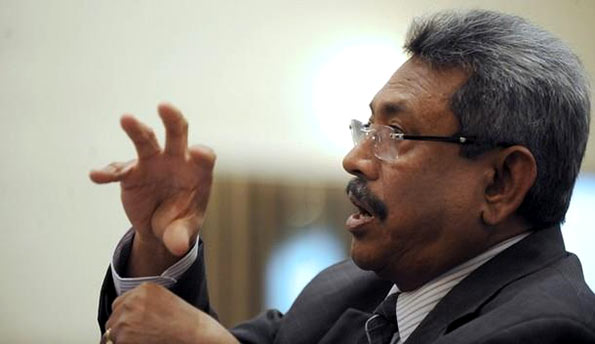 Had the incumbent government followed through the plan to create a sanitary landfill, the Meethotamulla tragedy could have been prevented, said former Defence Secretary Gotabaya Rajapaksa. He added that the 2015 Budget had allocated funds for this plan.
Within the last two years if this plan was implemented, the issue with regard to the Meethotamulla garbage dump would have been solved, he said.
"They didn't do that. They will have to find another site and dump there. They will create the same situation there as well," Rajapaksa said.
He added that the government has to find an alternative solution to sort out the accumulated garbage. The quality of Sri Lanka's garbage is wet, he said and went onto note that therefore discourse pertaining to recycling and power generation are not workable.
Speaking to Ceylon Today, he explained further, "We had a plan which we finalized following a lot of research. It was a World Bank initative. The World Bank assisted us with their funding to get expert advice on this. So we realized that the only solution to the Sri Lankan garbage crisis was sanitary dumping. When we looked at various places, ultimately we realized, that Arawakkalu, a site in the Puttalam District, was ideal to create a sanitary landfill with the appropriate technicality. The plan was to have a transit place in Meethotamulla and take all of this garbage on daily basis via rail wagon to Arawukkalu. This would have been a sanitary dumping process. They talk of Megapolis and so on; I don't know why this plan was not implemented."
The plan was neglected due to the change of government, Rajapaksa said and noted that the problems pertaining to Meethotamulla had been ignored for the last two years.
(Source: Ceylon Today – By Shaahidah Riza)