Gota claims his life is at risk
Posted by Editor on July 22, 2015 - 9:19 am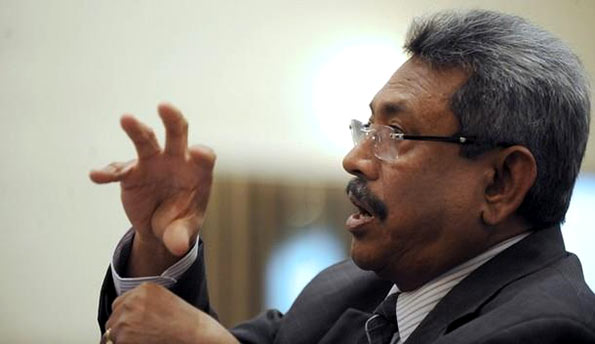 There were many who were corrupt in the former president's government which resulted in his defeat earlier this year, said the former defence secretary Gotabhaya Rajapaksa.
Addressing a crowd in Colombo, at the United People's Freedom Alliance (UPFA) parliamentary election candidate Udaya Gammanpila's campaign launch yesterday (21) he said, "The former president has a better set of people who will assist him in his campaign. We will correct our mistakes and send decent educated people to represent us in Parliament."
He also made reference to the white van incident which took place in Mirihana the previous night.
"Former president Mahinda Rajapaksa and I both live in Mirihana. We were at risk. It transpired that the white van was once used by the LTTE. The government accused us of promoting the white van culture. Why is Sobitha Thera quiet now? Is this democracy? They accuse us of stunting the process of reconciliation. However the base of all these is the need for proper national security. There were five former LTTE cadres arrested in Tamil Nadu too," he claimed.
He also claimed that the Financial Crimes Investigation Division (FCID) and other police units have traumatized his family including many government servants by investigating them upon baseless allegations, further claiming that he revealed his assets at all times.
Rajapaksa also claimed,"This government has pulled the country backwards in terms of economy and development. They cannot maintain and manage the projects which we started and completed. It has fallen to a derelict state. We managed to curtail the brain drain of educated and talented youth, but within six months their aspirations has diminished."
The event was attended by many including UPFA national list candidate Dr. Dayan Jayetilleka, former MP Tiran Alles, singer Neela Wickremesinghe and the chief incumbent of Abhayarama temple Ven. Murutettuwe Ananda Thera.
(Ceylon Today)
Latest Headlines in Sri Lanka