MR says Ranil holding PM post illegally
Posted by Editor on July 22, 2015 - 9:13 am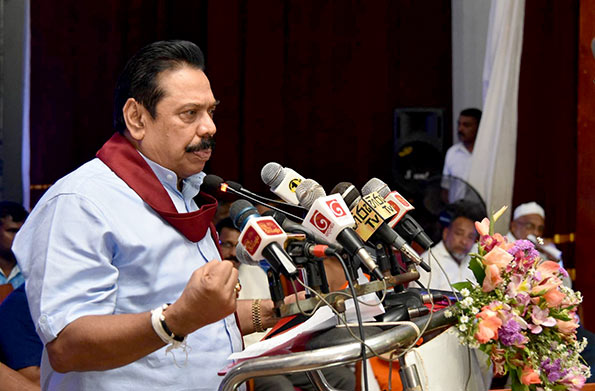 Former President Mahinda Rajapaksa said that Premier Ranil Wickremesinghe had been illegally holding the post of Prime Minister for over six months by manipulating the mandate given by the people at the recent Presidential Election.
"The election held on 8 January was to elect a President and not a Prime Minister. So it is time the people show that incumbent PM Ranil Wickremesinghe has been holding the post of Prime Minister for over six months illegally," Rajapaksa said at a public meeting held in Akuressa on 21 July. Afterwards the former President was to address public meetings at Weligama, Paramulla, Issadeen Town and Dikwella.
"You may have been misled to vote for the Swan symbol at the last Presidential Election but have they fulfilled their promises? So now it is time to vote a UPFA Government back into power by voting for the betel leaf," Rajapaksa said.
"You have a choice of using your preferential vote for your electoral organiser Manoj Sirisena, UPFA District Leader Dullas Alahaperuma, Mahinda Yapa Abeywardena, Chandrasiri Gajadeera, Kanchana Wijesekera, Sosindra Handunge and Niroshan Premarathna or any other candidates on the UPFA list."
"The present Government has not fulfilled its promises. They promised a guaranteed price for green tea leaves but are you paid that price now? The next UPFA Government will pay a guaranteed price of Rs. 90 per kilogram," he said to the people of Akuressa who are mostly employed within the tea industry.
"We will resume all development work, which is at a standstill, within a week once we are elected. We gave the students who failed their mathematics at the GCE O/L a chance to re-sit the paper while following the GCE A/L course. We intend to pay an allowance of Rs. 5000 a month to school-leavers or a lump sum payment of Rs. 50000 for their further education. We hope to increase the minimum wage of a government servant to Rs. 25,000 per month as well," he said, revealing some of the points that may appear in the UPFA's manifesto.
"Please be aware that the UNP has promoted an independent group led by a former SLFP strongman to split the UPFA vote in Akuressa. Don't be misled," he advised.
Former Chief Minister H.G. Sirisena, Provincial Councillor Aruna Gunerathna, Provincial Minister Weerasumana Weerasinghe, actress Anusha Damayanthi and Manoj Sirisena addressed the people of Akuressa who were at the venue from 3.00 p.m. awaiting the arrival of the former President, who finally made his appearance past 5.00 p.m.
(Source: Daily FT)
Latest Headlines in Sri Lanka