Gota lauds Sangakkara
Posted by Editor on July 10, 2011 - 3:11 pm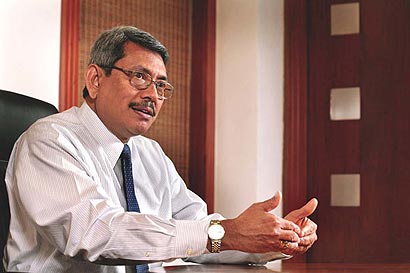 Defence Secretary Gotabhaya Rajapaksa yesterday praised national cricketer Kumar Sangakkara for solidly backing the country's successful war effort against the LTTE at a time a section of the international community is targeting the Sri Lankan military over accountability issues.
Rajapaksa said that the former national cricket captain had taken advantage of the 2011 Sir Colin Cowdrey Lecture he delivered at Lord's last week to talk about 1983 July riots, the JVP-led insurgency, LTTE terrorism and the heavy price paid by the military to defeat the LTTE.
The eloquent cricketer went to the extent of sharing a conversation he had with a soldier manning a checkpoint in Colombo shortly after the Sri Lankan team came under attack in Lahore in 2009, the Defence Secretary said.
Sangakkara told his Lord's audience that the soldier said he was ready to die in battle, though Sri Lanka couldn't afford to lose a cricketing hero like Sangakkara.
"I can't recall any sporting personality throwing his or her weight behind the military before such an audience under similar circumstances,'' Rajapaksa said.
Sangakkara's statement came in while pressure for a war crimes investigation against Sri Lanka mounted over the controversial 'Darusman report' and 'Sri Lanka's Killing Fields" documentary produced by UK-based Channel 4 News.
The first Sri Lankan cricketer and active player to deliver the Spirit of Cricket lecture at Lord's, Sangakkara received a standing ovation from some 1,500 invitees.
The Defence Secretary noted that President Mahinda Rajapaksa had to cancel a scheduled lecture at Oxford last December due to violent protests by the LTTE rump.
Sangakkara had set an example by proudly appreciating the sacrifices made by the military to restore peace in the country, Rajapaksa said adding that some controversial remarks attributed to Sangakkara regarding local cricket administration shouldn't be a reason to reject him.
The state-run media ignored Sangakkara's speech, while Sports Minister Mahindananda Aluthgamage ordered an inquiry.
The LTTE rump made an abortive bid to sabotage Sri Lanka tour of England. Subsequently it launched protests at grounds where the Sri Lankans played causing a nuisance.
Lawyer Gomin Dayasri said that for those trying to depict Sri Lankan soldiers as war criminals engaged in rape and extra-judicial killings, Sangakkara's forthright speech would be a serous setback.
Courtesy: The Island
Latest Headlines in Sri Lanka