We will aid Govt. because of our country – Ranil
Posted by Editor on July 11, 2011 - 8:44 am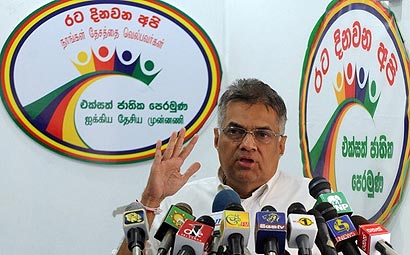 Opposition Leader Ranil Wickremesinghe said yesterday that the entire population would suffer if the international community, which accuses Sri Lanka of war crimes, imposed sanctions; and that that was the reason the UNP was ready to support the government's efforts to avoid such an eventuality.
Mr. Wickremesinghe made this point at a special ceremony organised to commemorate the death anniversary of former minister V. A. Sugathadasa in Colombo yesterday.
He said the country's exports would be affected if economic sanctions were imposed, as a greater percentage of the country's exports went to the West and the European region.
Mr. Wickremesnghe said the already tarnished reputation of Sri Lanka had caused the Sri Lankan people to face red tape when applying for visas to travel abroad.
"Therefore, it is not a problem faced by President Mahinda Rajapaksa alone," he said; pointing out that this was his answer to those of his own party who asked him why the UNP should support the government. Those members of his party, he said, were of the opinion that this international crisis was an issue which President Rajapaksa alone had to face.
He said the government's ongoing talks with the TNA should continue and promised that his party would fully back these deliberations. Mr. Wickremesinghe added, however, that the local government elections in the North should be conducted in a free and fair manner. He warned that the TNA would withdraw from the talks if the elections were not held in a free and fair manner.
Mr. Wickremesinghe also stressed that the government should implement a political solution as soon as possible now as it had agreed with India on the full implementation of the 13th Amendment.
The opposition leader said the suspension of the draconian laws which threaten democracy was also vital, and pointed out that visiting British Defence Secretary Liam Fox had also stressed these points.
"We are even ready to participate in the proposed parliamentary select committee to seek a political solution if these conditions are fulfilled," he said.
He said he had expressed these sentiments during his recent meeting with UN Secretary General Ban Ki-moon in New York.
Courtesy: Daily Mirror
Latest Headlines in Sri Lanka