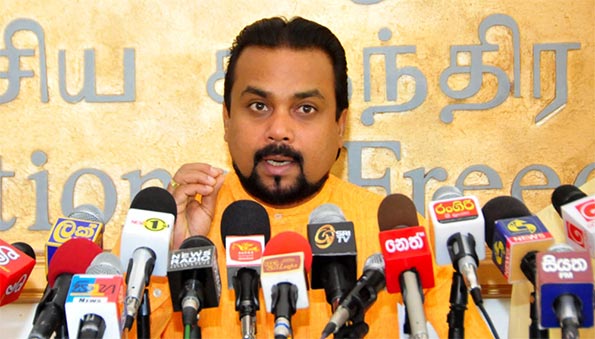 National Freedom Front (NFF) leader Wimal Weerawansa, yesterday, charged that the government was in a hurry to draft a new Constitution, to satisfy the whims and fancies of UN Human Rights Commissioner Zeid Ra'ad Al-Hussein.
Delivering a lecture on the Constitution being drafted by the government, he said the government's plan was to pass the new Constitution in the Parliament in November and then hold a referendum in January.
He said UNHR Commissioner Al-Hussein had outlined, in a statement on July 28, 2016, these plans of the government to pass the Constitution.
He said, Prime Minister Ranil Wickremesinghe gave contradictory responses to Opposition MPs' queries about the Constitution in Parliament.
"The danger exists of a federal Constitution which could divide the country," he said.
He warned that the national anthem, the national flag, the unitary status of the country and the foremost place given to Buddhism — which were all guaranteed in the existing Constitution — would be undermined by the new Constitution, which would also decentralise power.
He said the country could be divided by the Western Countries by means of the present government even without waging war.
(Source: Daily Mirror – By Piyumi Fonseka)