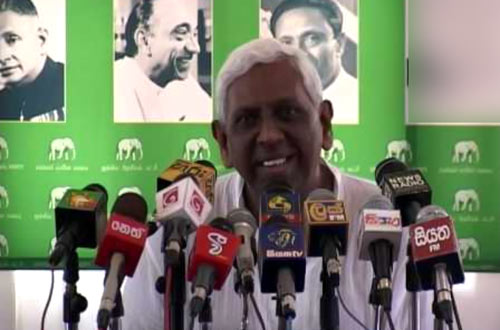 The government was going slow on investigations into allegations that the Rajapakasas had allegedly siphoned off US$ 18 billion in State funds while in power between 2005 and 2014 , a senior member of the United National Party charged yesterday.
Western Provincial Council UNP member Srinath Perera PC, told the " Sunday Island" that it was a mystery as to why more than a year after the UNP/SLFP administration had assumed office, not much headway had been made on an allegation as serious as US$ 18 billion belonging to the country being plundered by the Rajapaksas.
"If such an amount had been robbed, the government owed it to the people, the vast majority of whom live below the poverty line, to fast track investigations and recover the monies for their sake," hew said.
Admitting that it would not be easy to recover stolen State resources, Perera noted that the culprits would have taken steps to cover their tracks by investing in offshore accounts or other ventures under false names.
He said that the go-slow mystery approach had baffled the public who were told that monies rightfully belonging to them had been siphoned off by the Rajapaksas.
"A responsible government should bring to book, whoever it may be, accused of plundering the country's wealth. A lethargic approach would lead to corrupt elements in the current administration assuming that they too could do any wrong and get away."
Asked about the mushrooming global scandal triggered by the "Pananma Papers" which has named many politicians worldwide, but none from Sri Lanka, of having hidden offshore accounts, Perera replied: "I have not studied this issue in depth. It's too early to make any definite comments. Who knows, with time more names linked to the real owners can surface."
Iceland's Prime Minister Sigmundur David Gunnlaugsson who resigned recently, became the first political victim of the " Panama Papers" which contain some 11.5 million encrypted documents leaked by a Panamanian law firm, Mossak Fonseca.
Among the other world leaders accused of  shadowy financial transactions via shell companies are Argentine President Mauricio Macri, Saudi Arabia's King Salman, UAE President Sheikh Khalifa and Ukrainian President Petro Poroshenko.
British Prime Minister David Cameron's office has admitted that he did have a stake in an Offshore Fund established by his father, but had sold it prior to being elected to office.
Deputy Minister of State Enterprise Development, Eran Wickremeratne said last week that the "Panama Papers" spoke of  204,000 offshore accounts  of which 14,000 were shell companies registered in Seychelles, but only  in the case of 204 that the real owners had been identified.
Informed sources noted that among the companies identified were three with a total of 22 shareholders that were linked to Sri Lanka.
Establishing the Sri Lankan political link would take a long time, Wickremeratne said. "Those involved in illegal activity usually take precautions to hide their real identity. As such investigations are bound to be slow. We all know that Bank  of Ceylon opened a branch in Seychelles and air links were also established during the tenure of the last Rajapaksa regime."
(Source: The Island – by Zacki Jabbar)