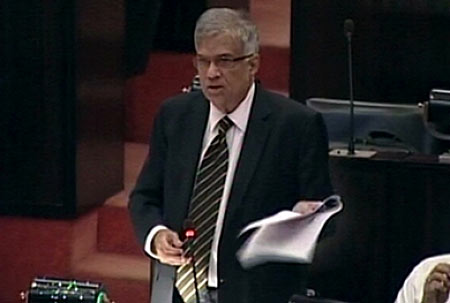 Sri Lanka on Thursday announced plans to lift six-decade-old restrictions on foreign exchange flows and allow free transfer of money in and out of the island, to encourage investment in the struggling economy.
The island tightly controls foreign currency transactions under a 1953 law that does not allow the free repatriation of capital, in an effort to protect its modest foreign reserves.
Under the present strict rules, exporters must bring back their foreign earnings within a short period of time or face penalties. Analysts say the policy deters investors.
"We can remove exchange controls before the next budget (in November)," Prime Minister Ranil Wickremesinghe said in parliament.
"We are strong enough to do that. We have that confidence."
Last week, Sri Lanka received the first tranche of a $1.5 billion bailout from the International Monetary Fund (IMF) to shore up the island's economy, left reeling after a spending spree by the new government.
The premier said Sri Lanka's foreign reserves were expected to double to $12 billion by the end of this year thanks to loans and grants from China, India and Japan.
The island also plans to raise about $4.2 billion with two bond issues, Wickremesinghe said.
The announcements came during a parliamentary session in which the opposition moved a no-trust resolution against Finance Minister Ravi Karunanayake accusing him of arbitrarily raising taxes. Earlier this month, Karunanayake sharply raised taxes on cars shortly after announcing an increase in the island's value added tax from 11 to 15 per cent.
But the no-confidence move was defeated by 94 votes in the 225-member assembly, where the ruling party commands a two-thirds majority.
Soon after President Maithripala Sirisena's government came to power in January last year, the finance minister led a spending spree to implement election pledges of higher public sector salaries and reduced taxes.
However, the country soon found itself in a balance of payments crisis.
The IMF noted last week that Sri Lanka's economy was under strain from an increasingly difficult external environment and has warned Colombo that it should increase tax collection.
Sri Lanka enjoyed blistering economic growth rates averaging more than eight per cent for two years after a prolonged civil war ended in 2009.
But the pace of expansion has since slowed, falling to 4.8 per cent in 2015, down from 4.9 per cent in the previous year, according to official data.
(Source: AFP)