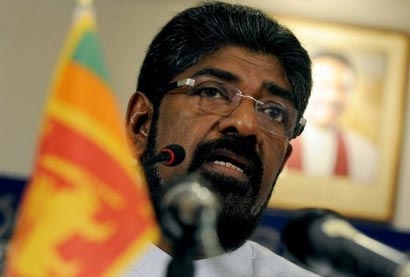 With UPFA constituents National Freedom Front (NFF) and the Jathika Hela Urumaya (JHU) deciding to contest the forthcoming Uva Provincial Council Election on their own, the government said yesterday that it was confident of securing the support both parties at national polls.
"There is no problem with the NFF and the JHU going it alone at local and provincial level and it has happened earlier. We are confident that when it comes to national issues both the NFF and JHU would back the UPFA", Media Minister and Cabinet Spokesman Keheliya Rambukwalle told a news conference in Colombo.
While rebutting allegations that Minister Wimal Weerawansa's NFF was playing a 'game' in favour of the government by contesting the Uva PC Poll under its symbol, Rambukwalle laughingly said that there was no such plan in operation.
Claiming that there were no serious problems in the UPFA, the Minister said that the freedom given to smaller parties to contest on their own at local and provincial level, proved that there was democracy within the ruling alliance.
Both the NFF and JHU have opposed the government's decision to widen the scope of Sri Lanka's Missing Persons Commission mandate to include allegations of war crimes which were being investigated separately by a UN panel.
(Courtesy: The Island)