Govt ordered to amend Pension Bill
Posted by Editor on May 3, 2011 - 10:50 am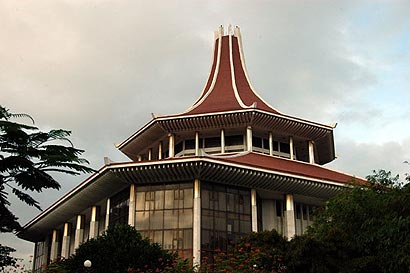 The Supreme Courts in Sri Lanka has ordered the Attorney General (AG) to amend the Pensions Bill for private sector workers.
AG has agreed in courts to amend the Bill to include provisions for spouses to be paid following the death of any worker.
Courts delivered the ruling on Monday when a petition filed by Lanka Bank Union (LBU) was taken for hearing.
The union has petitioned the Supreme Courts to rule the Bill unconstitutional.
LBU vice president of the Kesara Kottegodaarachchi told BBC Sandeshaya that the union argued that the wife of a worker should also be included as the beneficiary.
At present the proposed bill only provides for children under the age of 18.
"The Bill also proposes to pay the pension only until funds in the personal account lasts. Now the government has agreed to pay until the worker is alive," he said.
Trade unions in Sri Lanka are angry about the new government pension scheme which they say will further impoverish some of the poorest workers in the country at a time when many are struggling with the rising cost of living.
They do not like the fact that all workers will be obliged to contribute two percent of their pay to the scheme, on top of eight percent they already pay into another fund.
Anton Marcus of the General Services Employees Union says many people will contribute to the scheme for several years but not benefit from it at all.
BBC
Latest Headlines in Sri Lanka