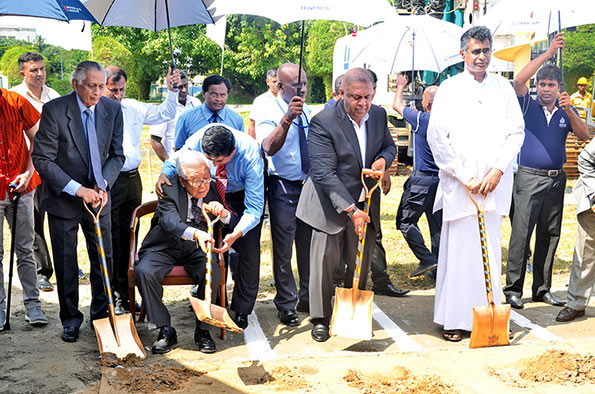 The ground breaking ceremony to commence the construction for USD 166 million Havelock City Commercial Development project got off the ground yesterday under the auspices of Overseas Realty Ceylon Chairman S.P Tao.
Havelock City commercial development project will boast an iconic 46 storeyed 600,000 sqft grade A premium office building and a 200,000 sqft shopping mall upon completion in 2020.
Havelock City is the largest integrated mixed- use development project undertaken in Sri Lanka which comprises of both residential and commercial components.
Speaking at the inauguration, Overseas Realty Director and CEO Pravir Samarasinghe said that residential component of the entire Havelock City project will comprise 10 towers with 1,300 apartments, of which , the company has already completed four towers with 450 units.
Another four towers with 600 odd units are under construction.
According to Samarasinghe, the critical and important aspect of the commercial development is the improvement of the road transport infrastructure adjacent to the Havelock City project.
To this end, the government under the megapolis transportation plan is hoping to build an elevated light railway transportation line and a station on Havelock road adjacent to the Havelock city property which will create connectivity through public transport facilities in the country, he noted.
In 1970 Tao made his first business foray in Sri Lanka when he assisted to set up the Ceylon Shipping Corporation through the sale of his Ship MV Lanka Rani. Delivering a message at the inauguration, Tao mentioned that he was convinced then 46 years ago that Sri Lanka will be a vital distribution maritime container transshipment hub for the Gulf and South Asia.
"Today with China's development of its 'one road, one belt strategy', Sri Lanka's importance as a maritime centre is secured." Tao commented.
" I'm a firm believer that the property market is the biggest enterprise in any county in the world."
He further added that he was more bullish on the growth prospects of Sri Lanka and noted he was proud to be part of the growth as a long-term investor in Overseas Realty (Ceylon), premier listed property company in Sri Lanka.
(Source: Daily News – By Indunil Hewage)