Had Manmohan come, he would have run the show: Basil
Posted by Editor on November 18, 2013 - 10:22 am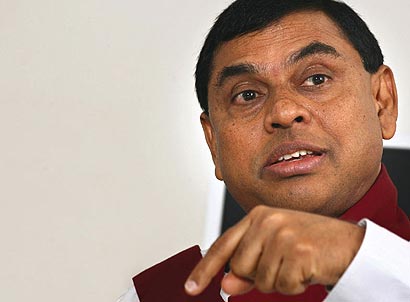 While the Sri Lankan government has so far given the impression that it does not take offence to Prime Minister Manmohan Singh skipping the Commonwealth Heads of Government Meeting, Sri Lanka's Economic Development Minister Basil Rajapaksa said on Sunday that he was disappointed with Dr. Singh's absence.
"Unfortunately, the Indian Prime Minister was not here; that is my only concern," Mr. Rajapaksa, brother of President Mahinda Rajapaksa, told The Hindu on the sidelines of the final day of the CHOGM. "He [Dr. Singh] is the closest friend we have. Had he come here, he would have run the show," Mr. Rajapaksa said.
"We are Asians, we like Indians. He (Dr. Singh) should have been here," he said.
Given that Mr. Basil Rajapaksa has been a key player in Sri Lanka's diplomacy with India, his comments could reflect the thinking in the Sri Lankan government, though Mr. Mahinda Rajapaksa had said he was satisfied with India's level of representation.
Early July, Mr. Rajapaksa was in New Delhi, for high-level talks, focussing on the 13th Amendment which followed the India-Sri Lanka Accord of 1987 and the fisheries conflict that has been posing a challenge to bilateral relations.
Asked whether the CHOGM spotlight and some critical remarks by certain world leaders pressured Sri Lanka in any way, Mr. Rajapaksa said: "No… What about the positive comments from Australia, Malaysia and Singapore?" (The Hindu)
Latest Headlines in Sri Lanka