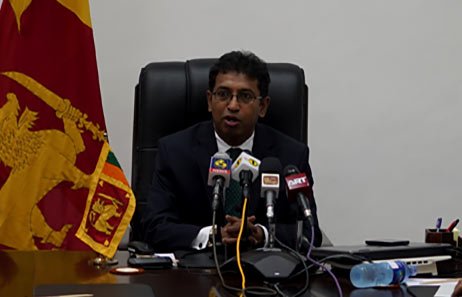 Everyone should get-together to the make the Singapore – Sri Lanka Free Trade Agreement and the Regional Comprehensive Economic Partnership (RCEP) a success, irrespective of political differences without spreading unfounded fears, National Policies and Economic Affairs State Minister Dr. Harsha de Silva said yesterday.
He said that undue fears have been created among the people about the Singapore – Sri Lanka Free Trade Agreeement by those who are in the opposition.
He added that no individual professionals, would come to Sri Lanka from Singapore to practice nor professionals from a third country under the provisions of the same agreement.
He made these observations during a press conference held at Sirikotha, the UNP headquarters.
He said that some scare mongers say that the economy would tumble rather than improve due to this agreement and that is baseless.
"These scare mongers say that the Singaporean profesionals would come to Sri Lanka and practice, the doctors, for example".
"It is unfounded. Architects, lawyers, doctors and engineers cannot come and provide services in Sri Lanka," he said.
The Minister said that intercorporate transfers is possible. For such a transfer, a Singaporean company should invest in Sri Lanka and could bring their specialised persons or professionals under conditions for a short period, to serve in Sri Lanka. "For Intercorporate Transfers one has to have five years experience and one year's experience in the specific company," he said. "Such professionals would get visa for two years only."
The State Minister brought to the notice that the Comprehensive Economic Co-orperation Agreement (CECA) between Singapore and India which enables 150 professionals to visit other country and practise which is applied both ways. But as scare mongers say ships loads of professionals from one country do not migrate to other country seeking opportunities due to immigration and emigration laws in the respective countries. Finally these numbers migrating are governed by the national law. "So there is no reason to fear that the professionals would flood our country. Some also attempt to create a fear that people from a third country like Pakistan or India would come to Sri Lanka under provisions of this agreement," Silva said.
"But that is also not true. One has to be a citizen or a resident of Singapore to become eligible for intercorporate transfers. It is not easy to obtain a Singaporean Citizenship.There are only 570,000 green card holders in Singapore."
De Silva said all have to integrate with the developing Asian Region. "I don't see my country as a South Asian country. I see it as a Indian Ocean Country. We are not stuck in a South Asian Mentality. We should not forget the 2500 year long history. In the coming decades, the Indian Ocean region is developing and no other country has a better position than Sri Lanka to take advantage of the growth in the Indian Ocean economy," he said. So we must integrate and if we don't we are the only country that would be left behind from the Regional Comprehensive Economic Partnership to which 16 Asian countries are to sign in November. We should quickly integrate with the growing Indian Ocean Community".
(Source: Daily News – By Sandasen Marasinghe)