Having Proper plan to strengthen Sri Lanka's economy is important – President
Posted by Editor on February 21, 2023 - 6:56 pm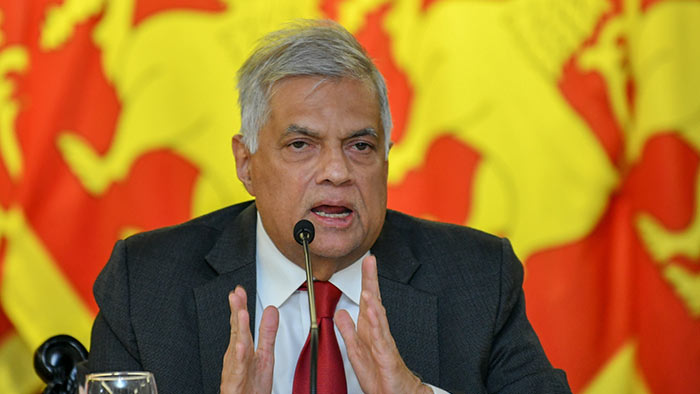 Sri Lanka President Ranil Wickremesinghe emphasised the importance of having a proper plan to strengthen the country's economy, during a meeting with businessmen and lawyers in the Kandy district.
He praised the current government's economic program, which has helped reduce recent economic difficulties. The President also acknowledged that the International Monetary Fund (IMF) is the only institution that can support a struggling country like Sri Lanka, and therefore, if there are alternative proposals to the government's program, he is willing to provide the opportunity to submit them to the IMF.
He further criticised political parties for playing games and lying to the people without presenting their proposals. The President reiterated his commitment to continue the program of building the country's economy despite any obstacles.
Expressing his views further President Ranil Wickremesinghe said,
This meeting was convened today aimed at providing clarity on the current economic situation of our country and soliciting views and suggestions on the steps to be taken towards recovery. We are currently facing a difficult situation. The collapse of the economy of a home affects the people living in it. The same holds true for the collapse of a business. However, when a country's economy collapses, the effects are felt by the entire population.
We faced this situation eleven months ago. We had no fuel, electricity or medicine. We faced a very difficult situation as a country. The country's economy came to a complete halt.
Upon assuming the presidency, I encountered a challenging situation in the country. However, we devised a sound economic plan and implemented it, which has helped us overcome the difficulties. Additionally, we provided necessary fertilisers to the farmers in a timely manner, resulting in a bountiful harvest this Maha season.
Currently, the issue of fuel queues has been resolved and there is an uninterrupted supply of electricity. As a result, we are making gradual progress towards improving the country's economy beyond its previous state. However, it's important to note that there are still other issues that need to be addressed.
Currently, inflation is high. The interest rates are extremely high. Therefore, we are aware of the challenges the business community is facing. Lawyers also have to face problems in carrying out their work in the field. It must be acknowledged that we have offered solutions to many of the nation's fundamental issues. We also have a lot of other issues to deal with.
When a country goes bankrupt, it has to go to the IMF. Apart from that, there is no other organisation in the world that provides aid when a country goes bankrupt. Each nation that experienced an economic catastrophe recovered after engaging in negotiations with the IMF. It took Greece 13 years to recover from the collapsed economy. I have no hope of being President for thirteen years.
There is only one way to rebuild this collapsed economy. That is the IMF. Different political parties are presenting different stories. I suggested to them to let me know if there is another way to resurrect the collapsed economy.
The IMF indicates that our tax revenue should be 15% of the Gross Domestic Product as it was in 2019. So far it has gone down to 09%. They have asked us how we expect to get assistance from money collected from the people of other countries as taxes, while we are giving tax relief to our people.
Therefore, we are prepared to allow those who oppose our policies to meet with the IMF and submit proposals. It remains to be seen whether the IMF will accept those proposals.
The government started negotiations with the IMF last August. Accordingly, it was possible to agree on the staff level agreement in September. They assigned us fifteen tasks to complete. The IMF gave us until December 31 to implement it. But we couldn't do it on that particular day. Then we made plans to get time until January 31st. Even at that time, we were unable to complete those 15 points. Finally, the deadline was pushed back to February 15. By 06:00 pm on February 15th, we completed all that was expected of us and sent them to Washington.
Only one of these fifteen issues was being delayed. It is related to the increase in electricity tariffs. The Electricity Board incurs Rs.230 billion each year in losses.
According to the IMF, government taxes should not be used to support institutions. It was informed that if this occurs, the IMF will not provide assistance. However, one person in this country opposed the decision to increase the electricity tariff.
As a result, receiving assistance from the International Fund was delayed by six weeks. Alternatively, we could have completed this by the end of January. All 15 tasks assigned to us have been completed. Now it is up to the IMF.
This is being discussed further. The IMF also suggested that everyone should get on one platform and discuss. However as China is a world power, their procedure is different.
On the 23rd, the Finance Ministers of the G20 countries are scheduled to hold a discussion in Bangalore, India.
During the meeting it is expected to look into how to restructure the debt of countries whose economies have collapsed. There, I hope to discuss the debt restructuring method of Sri Lanka with the Chinese Finance Minister. As per their stand, we have two or three options to implement.
If the IMF does not provide assistance, the people will have to endure a lot of difficulties due to the unavailability of fuel and 12-hour power cuts. Moreover, there will be a shortage of fertiliser for the Yala season.
The primary issue facing the country is its economic problem, and addressing it should be a top priority. Ignoring this problem will only result in it becoming more visible and challenging to overcome. Therefore, efforts should be made to work towards resolving the economic problem.
The upcoming election is not a means to change the government. The court is expected to make a decision on the date for the Local Government election. However, the country's economic problem is not something that can be resolved through legal action, even if all judges, including the Chief Justice, are involved. The Parliament is responsible for addressing and improving the state of the economy. Therefore, it is essential for all 225 members of Parliament to come together and work towards a resolution that will help to recover the economy.
If required, even proposals put forth by political parties such as the Janatha Vimukthi Peramuna, Samagi Balawegaya, Iran, and Harsha could be submitted to the IMF for assistance. Support could also be provided to facilitate this process. However, some political parties choose not to submit proposals and instead play political games by misleading the people on this matter.
The future of the country's youth is of utmost importance, and we cannot afford to take any chances with it. It is our responsibility to take all necessary action to build a stable and prosperous economy. If anyone has alternative proposals that could help achieve this goal, I am open to discuss them and explore every possibility. In fact, I would like to offer the opportunity for these proposals to be presented to the heads of the IMF in Washington for further discussion and potential support. Together, we can work towards a better future for the country and its people.
I took over this country when nobody else was willing to step up. Despite the inevitable criticisms, I am committed to taking all necessary action to rebuild our economy. Our goal is to provide some relief to the people by the end of this year and begin our economic development plan at the start of next year. With a focused and sustained effort, we can build a strong and prosperous economy that benefits all citizens of our country.
The people have lost their trust in the 225 members of Parliament, irrespective of their political affiliation or whether they belong to the government or the opposition. It is crucial to make concerted efforts to regain the trust of the people, and this should be a top priority.
We are currently implementing a plan to recover from the economic crisis, and we are counting on your leadership in this regard. We are hopeful that, with collective effort, we can make significant progress and steer the country towards development again by 2024.
Expressing his views, Mr. Sagala Ratnayake, Senior Adviser to the President on National Security and Chief of the Presidential Staff, said:
The Cabinet has approved the disbursement of payments related to the construction sector, and a survey of these payments is expected to be conducted shortly. Once the survey is completed, any outstanding payments owed to builders will be promptly made. Payment methods will vary, with cash being used for some payments while others will be issued in bonds.
State Ministers Dilum Amunugama, Anuradha Jayaratne, Lohan Ratwatte, Presidential Secretary Saman Ekanayake, Mayor of Kandy Kesara Senanayake, Presidential Adviser on Economic Affairs Dr. R.H. S. Samaratunga and several others attended this event.
(President's Media)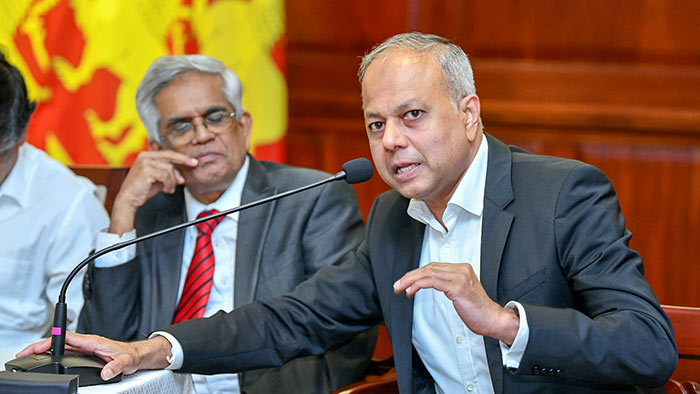 Latest Headlines in Sri Lanka