Hero Tillakaratne Dilshan led us to safety as bullets rained in – Kent coach Paul Farbrace relives horror of terrorist attack on Sri Lanka team in Pakistan
Posted by Editor on April 1, 2010 - 2:23 am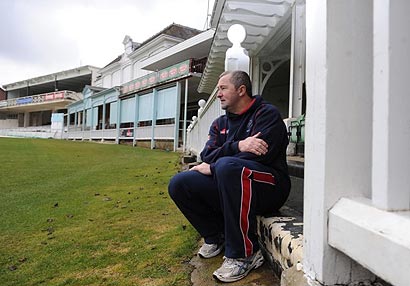 Daily Mail – By Paul Newman
Paul Farbrace talks about the day he nearly lost his life in an almost unnervingly matter-of-fact fashion.
'I was sitting in the team bus when I heard this popping and banging noise,' said Kent's new head coach.
'I looked out of the window and saw this guy running with a gun, shooting. I thought something was going on ahead because I couldn't think why anyone would want to kill us.
'It was like "What's this? Who's he shooting at?" Then I heard a shout of "I've been hit" and the bus started shaking where the bullets kept hitting it.'
This was meant to be a routine journey for the Sri Lanka team from the luxury of the Pearl Continental Hotel in Lahore to the Gaddafi Stadium for the third day of the second Test against Pakistan just over a year ago.
Instead it turned into the day when sport's worst fears were realised and a cricket team, thought to be untouchable on the subcontinent, became a target for terrorists.
Sri Lanka's English assistant coach was right in the thick of it.
'We all hit the floor of the bus and I could already see Ajantha Mendis laying there, bleeding from the back of his head,' said Farbrace, who had been relishing coaching some of the best cricketers in the world in conjunction with Australian Trevor Bayliss.
'Then there was a grenade explosion and I could see this thing sticking out of my arm (it turned out to be shrapnel). I dropped my phone and sunglasses and I was scrambling on the floor thinking, "Please don't hit me again". It wasn't like "I'm going to die", my life wasn't flashing in front of me, none of that happened. It was just "Please don't hit me again".'
It is a story, from within the Sri Lanka team bus that has never previously been told; not least the identity of the player who Farbrace believes saved him and the rest of the brilliant Sri Lankan team that day with his unheralded bravery.
'Our driver got all the praise for getting us out of there but Tillakaratne Dilshan was unbelievably brave,' said the former Kent and Middlesex wicketkeeper.
'He stuck his head up when the bullets were flying around, sat behind the driver and guided him through the parked cars that the attackers had put there to try to stop us escaping. I could hear Dilshan shouting, "Go left, go right" – and it was only the fact that the driver and Dilshan didn't get shot that enabled us to get away.'
Incredibly, only one player, Thilan Samaraweera, had been shot, while only Tharanga Paranavitana had been badly hurt by the grenade explosion that had also injured Farbrace's right arm.
'Para was hit in the chest and was still sitting up when our trainer and physio tried to pull him down to the floor,' said Farbrace.
'They thought he was dead and were trying to get him out of the line of fire. Thinking back, it was odd that there was no-one screaming or panicking. It was only when we got out of there and into the stadium that the anger set in. It was only later that I started to think, "Christ, I could have died".
'The president of Sri Lanka sent a plane to take us back to Colombo and when I got to hospital they found six pieces of shrapnel in my arm. One of them had cut through the muscle, so I had to have two operations in the end, but the extra time in hospital actually helped. I was in there for two weeks, talking about it all with the other lads who had been injured, and I think we got it out of our systems. Everyone made a full recovery.'
Physically, perhaps, but the unseen wounds take longer to heal. 'I couldn't sleep for three or four weeks afterwards and, when I eventually did, it was with the light on,' said Farbrace.
'I also got nervous afterwards when people walked behind me. I would stop and let them go past – and Colombo is such a busy place that I wasn't getting anywhere very quickly!'
He smiles, as he invariably does. Farbrace, who succeeds Graham Ford this season as coach of a Kent side returning to the first division of the Championship, shows no outward signs of trauma a year on from the attack and bears no malice for the horrendous experience that he was put through.
'I could understand the things Chris Broad (the match referee in a bus behind Sri Lanka's) said afterwards because he saw people die, but one of the blessings – if that's the right word – for us was that we didn't see a great deal of what happened,' said Farbrace.
'It was only when I saw television coverage of the attack that I saw dead bodies on the ground. 'I think it was terribly unfair that the Pakistani police were criticised for leaving us. When you are sitting on a motorbike with no protection and a bloke is firing a machine gun at you, I would defy anyone to stay there and take it. I don't care how well trained you are, you are going to duck for cover.
'Perhaps the worst thing of all is that Pakistan is now starved of international cricket as a consequence. Cricket was a salvation to Sri Lanka during their civil war and I think for the people of Pakistan not to have it now during such a tough time for their country is desperately sad.'
But would he go back? 'I'd definitely go back,' Farbrace insists.
'I've been there three times and have enjoyed the people, the hotels and, above all, the cricket there. I'd have to think very carefully about going back in the next year or so, but I want to go back at some stage. We all left there thinking we were leaving behind unfinished business.'
Was the attack, though, Farbrace's reason for turning down the offer of an extension to his contract with Sri Lanka to return 'home' to Canterbury?
'No, it genuinely wasn't,' he said. 'I saw bombs and heard explosions during my time in Colombo all the time, but I always worked on the theory that I could be on the wrong Tube train in London. It could happen anywhere in the world. It has happened in New York and London and it happened to us in Lahore. I came back because this is the opportunity to be the head coach of my home county. It is very exciting.'
As a player, Farbrace was an accomplished keeper who became one of the first victims of a failure to bat well enough to justify a position in the top seven.
But his lack of success as a player meant he moved into coaching at 28 and now, at 42, he has not only his time with Sri Lanka but a wealth of experience within the ECB as an age group coach and coach to the England women's team.
'Not making a success of my career as a player has driven me to try to make a success of coaching,' he said.
'I lay no blame on anyone for my playing career other than me. I didn't work hard enough. I played at being a county cricketer. I knew I had a certain amount of ability, but I didn't make the most of it.
'I took short cuts. But because of that I think I understand players better. I missed out on my first opportunity and, now I've got a second chance, I want to take it with both hands.'
It could be said that that second chance extends to Farbrace and the Sri Lanka team all surviving on that horrific day in Lahore. 'There have been no flashbacks, no trauma,' added Farbrace. 'I just know how lucky I was that day. I've moved on now.'
Latest Headlines in Sri Lanka