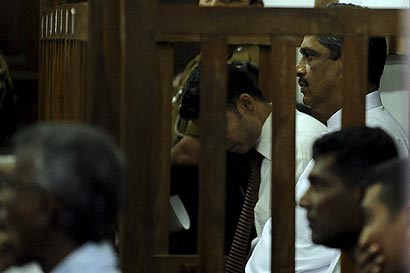 November 30, 2010: A decision has been reached to postpone the Hi-Corp financial fraud case, which was filed at the High Court against former Army Commander Sarath Fonseka and his son-in-law Danuna Thilakaratne, to the 14th of January.
This decision was taken based on the agreement reached between the lawyers appearing for the plaintiff and the defendant, when the case was called up before Colombo High Court judge Sunil Rajapaksa today.
The lawyers for both parties agreed that the case will be postponed until the Supreme Court returns its verdict on whether the court martial had been established in line with the Constitution.
The second accused connected to the Hi-Corp case, Wellington Tenden pleaded guilty to the charges against him and was sentenced to five years in prison.
The case is being tried with first accused Danuna Thilakaratne being in absentia.
Courtesy: News First