Hokandara plane crash survivor succumbs to his injuries
Posted by Editor on December 19, 2014 - 9:06 am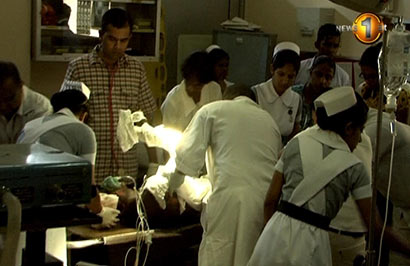 Air Force crew member who was being treated at the Colombo National Hospital following the Antonov AN 32 plane crash in Hokandara, Athurugiriya succumbed to his injuries on Thursday night.
Air Force spokesperson, Wing Commander Gihan Seneviratne said the deceased Air Force officer passed away at around 7.30 p.m. on Thursday.
Four other Air Force members were killed when the Antonov AN 32 aircraft of the Sri Lanka Air Force crash-landed in Hokandara, Athurugiriya last Friday.
Meanwhile, Speaking to News1st, Director of the Colombo National Hospital, Dr. Anil Jasinghe said the Air Force member who was admitted to the hospital was in a critical state due to burn injuries.
He added the crew member had passed away when he was being treated at the hospital's Intensive Care Unit after a three-hour long surgery.
(Courtesy: News First)
Latest Headlines in Sri Lanka