Hope for Manju
Posted by Editor on October 31, 2010 - 1:19 pm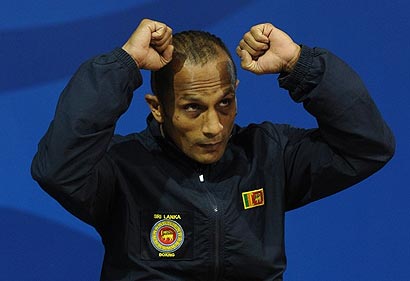 Head of the Sports Ministry Medical Unit Dr Geethanjana Mendis is confident that disgraced Commonwealth Games boxing gold medallist Manju Wanniarachchi can be proved innocent and that he would be able to retain his medal he won beating Welshman Sean McGoldrick in the bantam weight final at New Delhi.
Dr. Mendis told The Nation that his medical team could prove Wanniarachchi is innocent despite the boxer been tested positive for the drug.
"My team would perform every possible act to protect Wanniarachchi from further humiliation and to retain his gold medal which brought a great amount of honour and pride to the whole nation," said Dr Mendis.
He also said they have appointed a three-member committee headed by Dr Maiya Gunasekera to conduct an initial inquiry in addition to two other inquires which are to be conducted by the ABA and the Sri Lanka Police. Dr Rohini Fernandopulle and Dr Chandima Wijeratne are the two members with Dr Gunasekara who comprise the inquiry panel.
Dr Mendis recalled some previous incident involving Sri Lankan athletes. Sprint queen Susanthika Jayasinghe also experienced a similar situation and overcame it during her illustrious career. He also pointed out that in his view it was rather unnecessary for Wanniarachchi to consult a private doctor in Kurunegala. "As international sportsmen and sportswomen they should always follow the guidelines of the Sports Medical Unit."
Wanniarachchi who won gold in the bantamweight division in New Delhi was confirmed as the fifth athlete to fail a doping test during the recently concluded Commonwealth Games.
The Commonwealth Games Federation (CGF) official statement said that the 'A' urine sample of Wanniarachchihad a Norandrosterone count of 19, a prohibited Anabolic Agent under the World Antidoping Agency (WADA) list of prohibited substance and methods.
All Sri Lankans were shocked at this news when the National Olympic Committee (NOC) President Hemasiri Fernando brought it to the notice of the national body for boxing the Amateur Boxing Association (ABA) on October 22. The special Committee comprising NOC President, ABA President DIG (Rtd) Rohan Abeywardena, Dr Seevali Jayawickrama and Dian Gomes (Boxing manager to the CWG) and Wanniarachchi were present at this special meeting. However Wanniarachchi sincerely and categorically denied having taken any such drug. He also reminded the committee that he had competed in two International meets during the year including the Commonwealth Championship in Delhi where he won a silver medal just a few months ago.
However in accordance with the CGF Anti Doping Standard (ADS) Wanniarachchi has been notified of the finding through the Sri Lankan Commonwealth Games Association. Wanniarachchi now has until November 4 to respond to the finding after which the formal hearing process will commence.
Sport Ministry Secretary S. Liyanagama said, "Wanniarachci is expected to go to New Delhi and examine his 'B' urine sample on November 2 at the New Delhi Anti Doping Commissioner's office. He will be accompanied by Dr Lal Ekanayake, Lawyer Kalinga Indratissa and ABA Secretary Colonel Hemantha Weerasinghe."
If his 'B' test also proves positive Wanniarachchi will face a two-year ban and will be stripped of his gold medal.
NOC chief Hemasiri Fernando said, "Wanniarachchi may have unknowingly taken the banned steroid when he consulted a physician several months ago. If that is indeed the case, we will plead for a lenient punishment. We have taken his medal into our custody pending the completion of inquiries.
"At the moment my part is over and from this stage onwards the Sports Ministry and Sports Medical Unit have to handle the inquires. I have also informed this to President Mahinda Rajapaksa."
The NOC president also pointed out that the Anti Doping knowledge amongst our athletes is very low and that it should be developed through the Sports Medical Unit.
"We at the NOC tried to develop this but the Sports Medical Unit was not willing to come forward and work with us. Both of us have to join hands in this matter. It is very important that we protect our athletes," said Fernando.
ABA President Rohan Abeywardena said, "Having understood that the particular drug in question cannot be taken orally and had to be administered via injection we contacted Dr Ananda Mudannayake, the doctor who administered the drug on Manju. Mudannayake admitted that he has been treating Manju as well as other renowned athletes in the country.
"However during the telephone conversation Mudannayake had with Dr Seevali Jayawickrama, he had made a number of contradictory statements (including his qualifications) and had failed to be convincing in his explanations. Therefore a police entry was made in Kurunegala on Dr Mudannayake's involvement as a doctor by Manju and the President of ABA," he said.
Wanniarachchi's Manager Dian Gomes said that this was the first time an athlete had pointed a finger at the doctor. "Earlier any athlete who had suffered a similar fate as Manju had failed to accuse the doctor. Manju clearly stated that he got the Vitamin 'B' injection from this doctor. We knew that some boxers and even several national athletes were seeking treatment from this doctor. So we took adequate measures to educate the doctor by sending coach Harsha Kumara and ABA treasurer Ruwan Keragala to meet him and educate him on international doping regulations. The doctor was given a copy of WADA anti doping regulations too." Gomes said that Wanniarachchi was completely unaware that the drug given by the doctor was a banned steroid and that the boxer had already lodged a complaint against the doctor with the police.
Courtesy: The Nation

Latest Headlines in Sri Lanka