Human Rights Law Center/Australia – Your Panel are all Pro-LTTE supporters
Posted by Editor on March 2, 2013 - 12:48 pm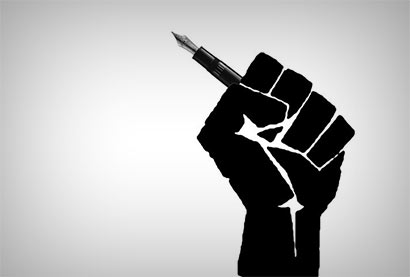 The Convenors
Human Rights Law Center,
Australia,
Dear Organizers,
The Human Rights Law Center has invited participants to a discussion about accountability for war crimes and the current human rights situation in Sri Lanka to be held on 7th and 8th March 2013 in Melbourne and Sydney, Australia. The panelists featured for this discussion are Frances Harrison, Dr. Sam Pari, Gordon Weiss and Bruce Haigh.
My question is exactly how does the Human Rights Law Center founded on the principles of "Freedom. Respect. Equality. Dignity. Action" propose to have a "discussion" when the 4 panelists who have been invited by the HRLC are openly critical of Sri Lanka and are open LTTE-sympathizers. To what extent is there fairplay? Nevertheless, whatever allegations that the 4 panelists will take pains to promote they cannot erase the fact that Sri Lanka is a democratic and sovereign nation, its military effort was against a terrorist organization banned in 32 countries and no amount of "allegations" without proof can diminish the fact that the Sri Lankan armed forces saved approximately 295,000 Tamil civilians from the LTTE sacrificing 5000 lives of soldiers and all these civilians are now resettled whilst 11770 LTTE combatants who gave themselves up are now rehabilitated and reintegrated except for a handful still undergoing rehabilitation whilst the State has pardoned all child combatants number over 500.
The Human Rights Law Center may not have done background searches on the 4 panelists:
Bruce Haigh – has been serially writing against the Government of Sri Lanka. He claims LTTE is not a terrorist organization. Haigh is the patron of the Center for Peace and Conflict Studies in which his colleagues (Brahmi Jegan and Dr. Sami Pari) are proved supporters of LTTE. Haigh was serving in Sri Lanka as Deputy High Commissioner for Australia in Sri Lanka in 1994 and would have seen LTTE kill over 50 people including Presidential Candidate and Opposition Leader Gamini Dissanayake. It was in 1993 that LTTE killed Sri Lanka's President, while in 1991 LTTE killed Rajiv Gandhi India's former Prime Minister. He is well aware that it was only after many peace talks, negotiations and cease fires that the military option was pursued in 2006 after Sri Lanka suffered LTTE terrorism since 1983.
Frances Harrison – is a former BBC correspondent and the author of "Still Counting the Dead". She left Sri Lanka in 2004 and bases her allegations on 10 persons living in UK with links to LTTE (one of whom is Murugan, a LTTE sea tiger who fled to France). Her civilian death estimates are far-fetched given there are only 2.4million Tamils in Sri Lanka of which 1million now reside overseas. If anyone pays enough attention one can see how Frances Harrison gets kudos from pro-LTTE Tamil diaspora groups attempting to revive the LTTE from their overseas centres.
Dr. Sam Pari –the colleague of Bruce Haigh, Dr. Sam Pari needs to be highlighted given that she is a proven LTTE cadre (her identity card is attached) http://www.defence.lk/new.asp?fname=20111103_03 / http://myapologetics.wordpress.com/2011/11/04/the-dr-sam-pari-scandal-gets-worse-alias-sampavi-alias-sham/
Dr. Sam is none other than Dr. Parimala Nathan Sampavi alias Sham is the main fund collector of the Australian based LTTE rump group Tamil Youth Organization (TYO). The link gives details of the form signed by Dr. Sam giving consent to work for the LTTE terrorists and agreeing to raise funds to this terrorist outfit through the Tamil Youth Organization. She is currently National Spokesperson for Australian Tamil Congress – we ask what type of balanced discussion Dr. Sam proposes to provide!
Gordon Weiss – was the UN Spokesman in Sri Lanka and placed the civilian deaths at approximately 7000 and that figure was soon expanded to 40,000 to release his book The Cage. At his book launch in 2011 he changed the figure to 10,000 when questioned about the 40,000 figure in the brochure. Weiss disowned responsibility and passed the blame to Deakin University which produced the brochure. This denial of the 40,000 at the launch in Australia clearly exposes the inflated figures of civilian deaths being used against Sri Lanka.
The Human Rights Law Center can go ahead with the discussion but its organizers and Board of Directors need to know that they have become gullible to the smear campaigns used by these pro-LTTE groups to tarnish a democratic Government and its Armed Forces because thirty years of terrorism in Sri Lanka provided a very lucrative means of raising funds involving a plethora of illegal activities that have made a lot of people rich and can continue so long as these groups can keep alive the possibility of resurrecting the LTTE in Sri Lanka – therefore there is likely to be no end to the propaganda unless international organizations refuse to be party to such activity.
We hope the Human Rights Law Center will learn from this present event.
Shenali Waduge
Colombo,
Sri Lanka
Latest Headlines in Sri Lanka