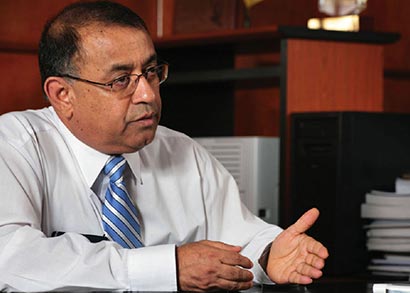 Treasury Secretary Dr. P. B. Jayasundera, who has incurred the wrath of Minister Wimal Weerawansa over alleged fund cuts fired a salvo against the latter.
"I am also close to the President," the Treasury Chief shot back when asked why Minister Wimal Weerawansa kept on blaming him for the state of the economy.
Jayasundera's comments came during an interaction with the Foreign Correspondents Association in Colombo earlier this week.
"To begin with, I am not under fire as claimed in certain quarters," he said adding "I am confidently commanding my job."
When pointed out that the Minister, who was criticising him, was a confidante of President Mahinda Rajapaksa, the Treasury Secretary replied "I am also close to the President". Asked why he had been singled out for blame, Dr. Jayasundare said with a shrug, "That is politics."
However, Jayasundera admitted that as a person who had been involved in the preparation of budgets for around 20 years, he had to take part of the responsibility.
The government was committed to maintaining the budget deficit at 5.8 per cent of GDP this year. The economy was expected to grow at nearly 7.5 percent while inflation would reach eight per cent on improving food supplies, the Treasury Chief claimed, noting that the trade deficit could be kept at manageable levels with US$ 6 billion expected in foreign remittances and US$ 3 billion in tourist sector earnings
Ruling out further high interest foreign commercial borrowing, the Treasury Secretary said that local banks should be encouraged to generate their own funds.
Critical reforms were required in the state enterprises, encompassing procurement, human resources, management and pricing. By addressing the problems faced by the Ceylon Electricity Board and Ceylon Petroleum Corporation, the State Banks could be strengthened, he noted.
Courtesy: The Island