Boycott Sri Lanka, Robertson urges
Posted by Editor on March 1, 2013 - 5:10 pm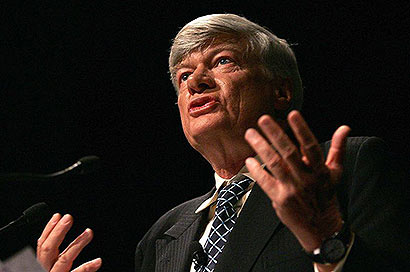 Submitted by Walter Jayawardhana
LONDON: The prominent barrister Geoffrey Robertson wants Australia and other commonwealth countries to boycott a leaders' meeting in the Sri Lankan capital Colombo to protest against the impeachment of the nation's chief justice.
The Australian lawyer also wants the Queen to steer clear of November's Commonwealth Heads of Government Meeting after Shirani Bandaranayake was declared guilty of misconduct seven weeks ago.
No-shows by powerful nations would signal the unacceptability of their behaviour.
"Governments which respect the rule of law should not attend," Mr Robertson states in a written report for England's Bar Human Rights Committee.
"Nor should the Queen or any royal family member provide a photo-opportunity for President Mahinda Rajapaksa.
"Royal seals of approval serve the propaganda interests of people like this and no-shows by powerful nations would signal the unacceptability of their behaviour."
Ms Bandaranayake, the first woman to hold Sri Lanka's highest judicial post, was sacked by Mr Rajapaksa two days after parliament voted to impeach her in January.
She had previously stalled a bill that sought to grant greater political and financial power to the president's youngest brother who is the economic development minister.
In his report, released in London on Wednesday, Mr Robertson argues the Sri Lankan government's treatment of the judge "undermines the rule of law to such an extent that the country which suffers it will suffer the loss of that independent power which is essential to make democracy work".
He says the attack on the independence of the judiciary is a "calamity" for Sri Lanka but also an international problem because it could be emulated elsewhere if allowed to pass without consequences.
Speaking at the report's launch, Mr Robertson said the "fabricated charges" against Ms Bandaranayake were heard by government ministers in a secret star chamber with witnesses bullied and browbeaten.
The QC wants the 117 MPs who voted for impeachment and the seven ministers who declared her guilty banned from visiting Britain and other Commonwealth countries. He also wants their foreign bank accounts frozen.
"These identifiable people are collectively responsible for an unlawful attack on the rule of law and unless made to suffer for it others will do the same dirty work," Mr Robertson writes.
(Source: Sydney Morning Herald)

Latest Headlines in Sri Lanka