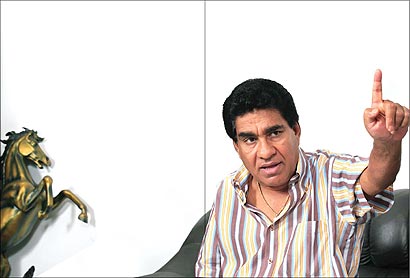 I have the capability to chase away any group that gathers outside the Sirikotha UNP headquarters to protest against party leader Ranil Wickremasinghe, Public Relations Minister Mervyn Silva stated.
Speaking at a workshop in Gampaha, he said that he was capable of chasing away these crowds by hook or by crook revealing that a group of UNPers were attempting to stage a Sathyagraha in order to force the removal of Ranil Wickremasinghe as their party leader.
He stated that indiscipline such as this was the reason that politics in Sri Lanka was deteriorating at such a rate.
The Minister also stated that the Grease Devils that were becoming a menace around the country were actually JVP members attempting to cause panic amongst the people.
Courtesy: Ada Derana