I do not believe in astrology now – Ex-President Mahinda Rajapaksa
Posted by Editor on March 2, 2015 - 8:01 am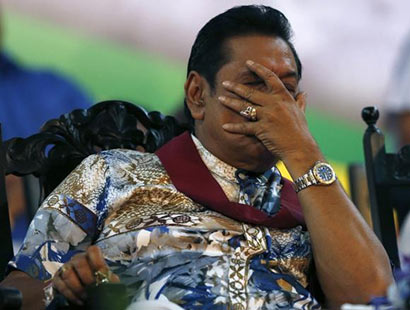 Responding to a question raised by a journalist from the "Dawn" newspaper, a Pakitani Publication," whether he still believes in astrology", former President Mahinda Rajapaksa said, "Now, I don't" and laughed out loud. "I have to ask you this, do you still believe in astrology?" "Now, I don't," he says and laughs out loud.
The former President went on to say that Pakistan helped Sri Lanka in quelling the Tamil insurgency. "See, the US, Europe, the West, they are not our friends,".
"Pakistan helped us, especially Musharraf. What happened in my country and the insurgency happening in your country, RAW [India's Research and Analysis Wing] is behind it."
Speaking about his defeat in the elections, he said, "The Muslims in the East and people in the North were misled, probably by international forces," .
Any message for the Pakistani people, I ask. "We hope your insurgency will be over soon, that the country prospers and we become closer. (From Dawn, March 1, 2015)
(Daily News)
Latest Headlines in Sri Lanka