I sent troops to Weliweriya
Posted by Editor on August 5, 2013 - 8:13 am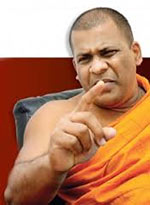 General Secretary of the Bodu Bala Sena (BBS), Ven. Galagodaaththe Gnanasara Thera, said it was under his guidance that the Defence Ministry deployed military troops to Weliweriya last Thursday.
"It was I who sent them there after observing the situation in the area. Though the demand by the villagers was extremely justifiable when observing the situation, I figured that things could turn bad as the villagers were politically misled by a group.
The protest they were planning to hold was not properly guided or organized. Therefore, I contacted the officials of the Ministry of Defence and emphasized the need to beef up security in the area," Ven. Thera said.
He made this statement when Ceylon Today contacted him, querying why the BBS failed to intervene in the issue faced by the people of Rathupaswala, whose supply of drinking water had been contaminated with chemical disposals from a factory in the locality.
"I called the officials and told them about the problem. In fact, I said that this is a serious issue and the matter should be resolved without delay as parties with vested political interests could blow the issue out of proportion. Only those who do not have a clue about what we are doing would ask why we are being silent while the people are suffering," Gnanasara Thera said.
He however acknowledged the fact that, area residents were shot by the military personnel.
"If the residents behaved accordingly and attempted to negotiate politely, things would not have turned this bad. They provoked the military personnel and we can't blame the military entirely for the situation," he added, while at the same time, expressing his dismay on the final outcome of the events related to the incident.
The protest led by the villagers of Weliweriya and the surrounding areas last Thursday resulted in the area turning into a mini battle field.
(Source: Ceylon Today)
Latest Headlines in Sri Lanka