I WAITED TILL THE LAST MOMENT TO VERIFY WHITE FLAG INCIDENT: FREDRICA
Posted by Editor on November 10, 2010 - 12:41 pm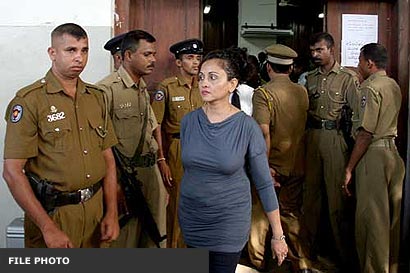 November 10, 2010: Providing evidence before the High Court yesterday, the editor of the Sunday Leader newspaper Frederica Jansz said that she waited until the last moment to verify alleged white flag incident from Defense Secretary Gotabhaya Rajapaksa, as she felt objections may be raised by the government, if the information had come to light.
She made this statement responding to a question raised by defense counsel Attorney at Law Lalin Laduwahetti, when the case was called up before the Colombo High Court for the eleventh time.
Responding to cross examining, the chief witness of the prosecution Frederica Jansz said that even though she attempted to verify the white flag incident from several other parties, her efforts had proven futile.
She added that the statement provided by her to the Criminal Investigations Department (CID) that she had spoken to the defense secretary on the 8th of December 2009 to verify this statement was a mistake.
Speaking further she said that she had in fact attempted to contact him on the 11th of December.
She went on to state that all that she had said while providing evidence is information she had known and not just something she believed in, and that she had not provided any false information.
While stating that an English newspaper had reported the proceedings of this case in an inaccurate manner, the witness noted that she had obtained transcripts of the evidence provided by her through a law firm in order to correct this.
When the court questioned her as to whether she was aware that transcripts of the case had not been issued to anyone, Frederica Jansz said she was unaware of it.
She added that she did not know how the law firm in question had provided transcripts of the case.
The witness produced a receipt for the payment of Rs. 2,000 she had paid to obtain the transcripts. At this point the counsel for the prosecution, Deputy Solicitor General Wasantha Navarathna Bandara said that he had no objection if the court carried out an investigation into how she had obtained those transcripts.
The case will be called up again today.
News First
Latest Headlines in Sri Lanka