I WAS ABLE TO FULFILL THE PROMISE: MANJU WANNIARACHCHI
Posted by Editor on October 17, 2010 - 8:59 am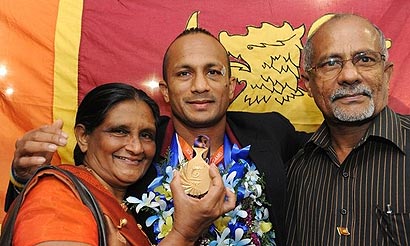 October 16, 2010: Commonwealth Games Gold medalist Manju Wanniarachchi, says that his next aim is to bring home a medal from the 2012 Olympic Games.
"I went into the games with a lot of hope since I practiced very hard. Before I left for the games, I told my coach, Harsha that I will definitely bring home a medal. I was able to fulfill that promise. As a Sri Lankan I am humbly proud about this achievement." said Manju Wanniarachchi.
He expressed this view upon his arrival to the island this morning from the Commonwealth Games in India.
The Sri Lanka Commonwealth team including boxing gold medalist Manju Wanniarachchi returned to the island from New Delhi, India today.
While Manju Wanniarachchi bagged a gold medal for Sri Lanka in the Men's 56 kilogram boxing event, captain of the Sri Lanka contingent Chinthana Geethal Vidanage took Silver in the Men's weightlifting event at the Games.
"As the captain of the team I am happy that we were able to achieve gold, silver and a bronze medal for our country," said Chinthana Geethal Vidanage
Sudesh Peiris also secured a bronze medal for Sri Lanka in the Weightlifting event.
"I achieved this success amidst numerous difficulties. So I am very happy about the medal I brought home." said Sudesh Peiris.
Minister of Sports C. B. Rathnayake extended a warm welcome to these sportsmen at the Airport this morning.
Courtesy: News First – Pix by Getty images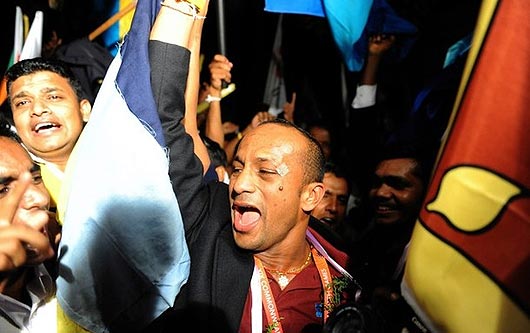 Latest Headlines in Sri Lanka