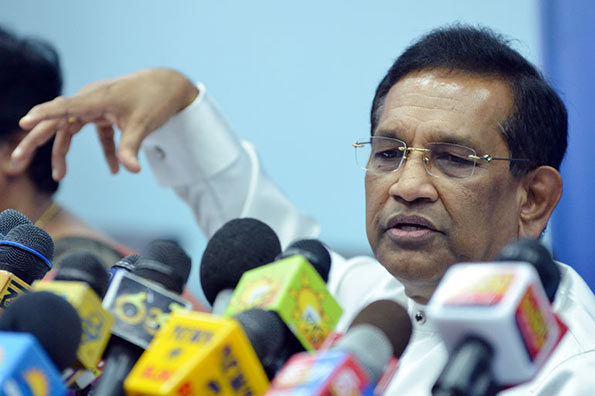 Health Minister Rajitha Senaratne said yesterday that the government should direct the Inspector General of Police to arrest the policemen who had turned a blind eye when some Buddhist monks surrounded and attacked a UNHRC safe house in Mount Lavinia, sheltering some Rohingya refugees from Myanmar, on Tuesday.
Fielding questions at the weekly Cabinet Press Briefing in Colombo, Minister Senaratne said it was not the first time that Rohingya refugees had come to Sri Lanka. "They first came in March 2008. Where were the so-called nationalist monks? They were obviously scared of the Rajapaksas. That is why they kept quiet."
The 55 Rohingyas who came in March 2008 had been sent to some European countries which had agreed to accept them in July 2012, Senaratne said. "Thereafter 101 refugees came in February 2013, but the monks who were protesting now kept quiet. It was in February 2015 that the 101 Rohingyas were sent back after the United Nations made necessary arrangements. This time, thirty refuges including 16 children have come. Another child was born in Colombo."
Senaratne said that as a Buddhist, he was ashamed of the conduct of some persons in robes, who passed off as Buddhist monks. Their conduct, he observed, was an insult to the Buddha and his teachings.
Pointing out that over two million Sri Lankans lived abroad, the Minister queried what would happen if they, too, were given the same treatment as Rohingya refugees. "The government should direct the Inspector General of Police to arrest the policemen who failed to take action while the UNHRC safe house was being attacked," Senaratne emphasised, adding that he would raise the issue at the next Cabinet meeting.
Police Spokesman SP Ruwan Gunasekara said that the Rohingya refugees had been transferred to the Boossa Detention Centre.
(Source: The Island – By Zacki Jabbar)