In Meeting with President Rajapaksa, UNHRC's Navi Pillay Acknowledges Post-War Progress
Posted by Editor on August 30, 2013 - 7:56 pm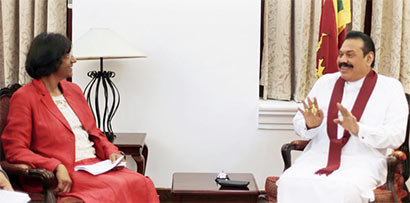 The U.N. High Commissioner for Human Rights Ms. Navanethem Pillay, when she called on President Mahinda Rajapaksa at Temple Trees this afternoon, acknowledged the post-war progress that has been made in Sri Lanka.
"This is a visit long overdue, but I felt that it's much better that I come so that I'll be in a position to report on the very many achievements that have been made," Ms. Pillay said. "Firstly, it was very very visible to me in the North how much you have invested in reconstruction."
Speaking about implementing the recommendations of the Lessons Learnt and Reconciliation Commission (LLRC), the High Commissioner said she was very pleased about the establishment of a commission to look into war-time disappearances.
The President and the High Commissioner also spoke about reports that depicted Sri Lanka as a country of religious intolerance, with Ms. Pillay saying she was surprised since Sri Lanka is generally known to have a culture of tolerance. President Rajapaksa described that these have been isolated incidents and that the majority of Sri Lankans continue to coexist peacefully in all parts of the island.
Ms. Pillay also said there has been "good cooperation" between her office and the Sri Lankan government in facilitating her visit and that she had received comprehensive briefings at all her meetings.
President Rajapaksa told Ms. Pillay that there is a belief among many Sri Lankans that the United Nations is biased in the way it deals with countries, and he said he urged those who voiced these concerns to him not to prejudge the report Ms. Pillay is due to issue.
Minister of External Affairs Prof. G.L. Peiris, Secretary to the President Mr. Lalith Weeratunga, Secretary to the Ministry of External Affairs Mr. Karunatilaka Amunugama, Head of Mission of Sri Lanka's Permanent Mission to the United Nations in Geneva Mr. Ravinatha Aryasinha and Additional Secretary to the Ministry of External Affairs Mrs. Kshenuka Seneviratne also joined the discussion.
(Courtesy: President Media)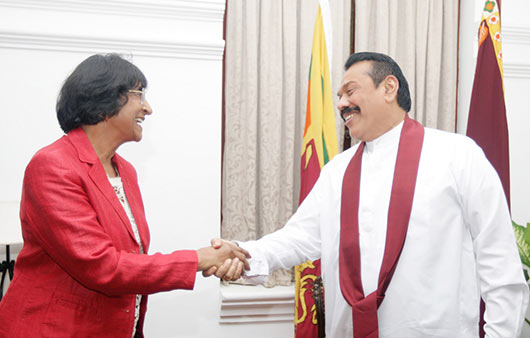 Latest Headlines in Sri Lanka