India cannot cut off trade ties with SL PM Singh tells Vaiko
Posted by Editor on August 4, 2011 - 9:08 am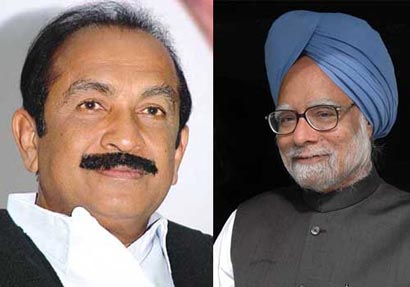 NEW DELHI, August 3: Prime Minister Dr Manmohan Singh has said India cannot either restrict or cut off its trade ties with Sri Lanka to exert pressure on the island's government to mitigate the sufferings of the displaced Tamils there.
He conveyed this to MDMK leader Vaiko from Tamil Nadu when the latter called on him on Tuesday to demand that India undertake some drastic measures to force Sri Lanka to resettle and rehabilitate the Tamils who were displaced from the Jaffna peninsula during the ethnic war that ended in May 2009.
According to a statement issued by Vaiko, Dr Singh told him that any restrictions on economic ties with the island will only encourage China to displace India as Sri Lanka's strategic and trading partner.
Vaiko claimed that he told the prime minister: "In any case, China is already aiding the Sri Lankan naval forces to attack Indian fishermen, and is more of an ally of Pakistan than India."
He said he also took up with the prime minister the case of death row convict Perarivalan in the Rajiv Gandhi assassination case. He recalled that Nalini's death sentence was commuted to life imprisonment. Perarivalan has already spent 20 years in prison, and his death sentence too should be commuted to life imprisonment.
Dr Singh apparently agreed to ask the Home Ministry to look into the case. Vaiko also met Home Minister Palaniappan Chidambaram.
Courtesy: The Island
Latest Headlines in Sri Lanka