India Jails Jayalalitha – Chief Minister of Tamil Nadu & Lessons for Sri Lanka
Posted by Editor on September 30, 2014 - 8:14 am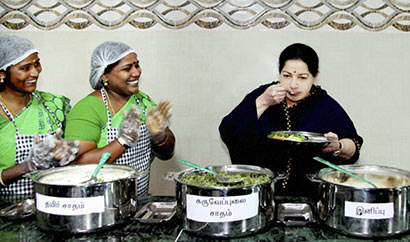 The sentence was short and sweet. The Judge John Michael D'Cunha 1,300-page judgment was as follows:
Jayalalithaa is convicted under Section 13 (1) (E) of Prevention of Corruption Act, 1988.Immediate imprisonment in a Bangalore prison – Jayalalitha ceases to be both MLA and Chief Minister of Tamil Nadu
4 years in jail in Parappana Agrahara jail
Cannot contest elections for 10 years
No hospital jail term – no private medical treatment
Rs.1000million fine
confiscation of all seized properties
guilty of amassing illegal wealth – including 28 kg gold, property, 750 pairs of shoes and 12,000 saris from 1991 to 1996.
Jayalalitha is now Prisoner Number 7402
Her breakfast consisted of breakfast of raagi, rice and sambhar
Her only special treatment differentiating her from other prisoners is a cot and a chair
Inspite of chest, knee and stomach pain and inadequate medical attention – Jayalalitha remains in prison
Jayalalitha becomes the 1st Indian Chief Minister to lose post for corruption
She was not the only one to be sentenced. Jayalalithaa's close aides Sasikala Natarajan, Ilavarasi and foster son Sudhakaran are also imprisoned and have to pay Rs.10 crore each. They were charged under Sections 109 (abetment) and 120(B) (criminal conspiracy) of IPC
The background to the case follows a complaint filed on 14 June 1996 by Dr. Subramaniam Swamy against Jayalalitha. The chargesheet was filed the following year. In February 2003, DMK leader K Anbazhagan asks Supreme Court to transfer trial out of Chennai thus the transfer to Bangalore. The trial began in 2010. AIADMK won elections in 2011 and Jayalalitha became chief minister.
And Jayalalitha's crimes: Among a long list of others, the case in question was associated with Rs.66.65 crore disproportionate assets. While it is not the first time anyone has been convicted while being a Chief Minister, it is the 3rd time Jayalalitha has been convicted of corruption and the 2nd time she has done to step down as Chief Minister (previous times in February 2000 and October 2000 but she was not in power).
Justice has been served after 18 years. Tamil Nadu must learn that no amount of stoning shops, setting fire to effigies and disrupting normalacy can change judicial verdicts.
Jayalalitha's chances of bail also look slim as the sentence is above 3 years (4yrs) which makes her have to move the high court as a criminal appeal to seek bail.
JUSTICE IN SRI LANKA
In Sri Lanka we welcome the verdict with admiration. Not only has Justice been said to be done it has been seen. Jayalalitha has been the prick as have all Chief Ministers of Tamil Nadu in fostering better relations with India. Nevertheless, hostilities of Tamil Nadu apart the experience Sri Lanka has had with India's Central Government is nothing to boast about either. The last fiasco was in the cartoon of the Chief Minister which went to unnecessary heights with Indian External Affairs even summoning Sri Lanka's envoy in Delhi and showing total lack of diplomatic quorum even after an immediate apology was extended prior to even holding an investigation. It simply depicted that the foreign policy mannerism of India had not changed a bit.
In Sri Lanka there is a saying "ditta dhamma vedaniya karma" (the law of cause and effect) what goes round comes round and Jayalalitha got what she truly deserved.
However, while we look to India's verdict in admiration we sadly look upon our own. At every level there is corruption. From politician, to the Secretary, to the Heads of Government right down to the peon. There are only a handful of honest people. Files do not move unless palms are greased. To make matters worse we have a provincial and municipal system full of corrupt officials where absolutely nothing gets done without payment and not only that a good look at the list of provincial councilors and their antics will showcase that they are all involved in rape, thuggery, theft, murder and the scale of their crimes look to be never ending.
We also have people who have been portrayed as paragons of virtue not for any good deeds but because of the money thrown across media to provide the publicity. We are talking about the infamous Kotelawala couple. The comparison with Jayalalitha shows how even the Kotelawala's were using other people's money to hype up their popularity. There was a time when rumor went around that Kotelawala would contest Presidential elections. Bargaining away other people's money was a hallmark of both Jayalalitha and the Kotelawala's.
16 people committed themselves after hearing Jayalalitha's jail sentence obviously people who had been living off her and now lost. However, in Sri Lanka, the people who fell prey to depositing money with the dream of getting an amazing interest eventually left close to 50 people having committed suicide while the Kotelawala and clan walked away with not only their money but remain at large with the unlikelihood of ever been punished for their crime. It is unfortunate that there are people who still do not wish to question the morality and ethics of a couple pretending to be great people in Sri Lanka without any concern for the innocent people who lost out on their life earnings which probably has been nicely passed out of Sri Lanka.
It is unfortunate that whenever any bigwig gets arrested in Sri Lanka, it is always straight to a private hospital, or a prison hospital done up like a private hospital and there is no difference whatsoever even for the VIP criminal.
Jayalalitha on the other hand had to have a frugal meal in jail where the only differentiating factor between herself and the other criminals was a cot and chair allowed inside her prison. While Sri Lanka's VIP prisoners often end up complaining of chest pains and are immediately transferred to private hospitals, the Chief Minister of Tamil Nadu was taken to a state-run hospital. In short she has not received any special treatment as she has been found guilty before the law.
The same cannot be said for Sri Lanka's culprits who end up feeling as if they have committed a major achievement by being sent to prison and voters shamelessly end up garlanding them after they come out. Can we expect justice when even the voters stoop so low and yet demand justice? We do not want selective justice. If anyone has done wrong they should be punished. There has to be checks and balances and people need to start moving away from the selfish self-centred living patterns they currently adopt.
While the judgement on Jayalalitha is sweet retribution for the high handed manner she has been behaving and treating Sri Lanka, we are hopeful that the justice system in Sri Lanka also wakes up to realize that anyone in any role cannot demand respect, they must earn it and to earn it they must be uncorrupt and function with integrity. It is when others see and follow good ethics that the world can become a better place. As things stand there are only a handful of good people not bound by or dictated by money and while they are epitomes of good virtue the power is unfortunately in the hands of the corrupt in a system that is run by them leaving no room for the good to enter.
India has led the way with Jayalalitha's jailing, it is good for Sri Lanka to start by action against the Kotelawala's and a host of others believing that they can evade justice for their crimes. Keeping crooks around brings more headaches than any good and the politicians in both government and opposition are beginning to find out as the true nature of the people that surround them are unfolding to bring public disgust.
– by Shenali D Waduge
Latest Headlines in Sri Lanka