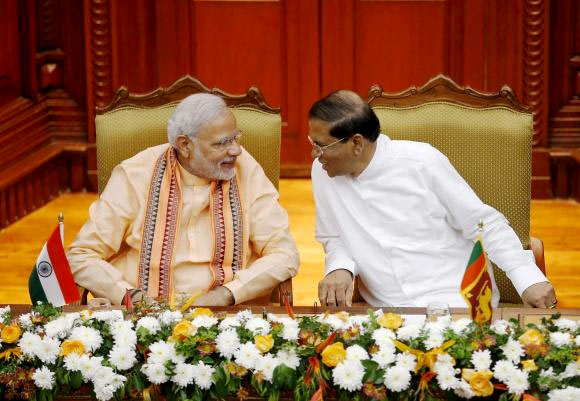 When Sri Lanka's President Maithripala Sirisena received India's Prime Minister Narendra Modi at an ocean-front colonial building on Friday, the two looked out over a $1.4 billion Chinese real estate project halted days ago after criticism from New Delhi.
The vista will have pleased Modi, whose government strongly opposed the land reclamation project inaugurated by China's President Xi Jinping last year under a deal that gives China ownership of a patch of land overlooking a strategic port.
Modi's was the first bilateral visit by an Indian premier in 28 years, a sign of a friendship that has warmed rapidly since a January election ousted a leader whose close ties with China had left Sri Lanka's larger neighbor feeling unloved.
India and China are increasingly jostling for influence in South Asia and the Indian Ocean and former Sri Lankan President Mahinda Rajapaksa's decision to let Chinese submarines dock in Colombo port and the real estate deal were very worrying for New Delhi.
"The course of the 21st century will be determined by the currents of the Indian Ocean," Modi said in a speech to Sri Lanka's parliament that highlighted the new bonhomie. "Your leadership and our partnership will be vital in making a peaceful maritime neighborhood."
In January, political and intelligence sources told Reuters that Rajapaksa had expelled the Colombo station chief of India's spy agency in the run-up to the presidential election, accusing him of helping organize the opposition.
Rajapaksa himself accused India's Research and Analysis Wing spy agency of conspiring with the CIA and Britain's MI6 to rally the fractious opposition, in an interview with India's the Hindu newspaper on Friday.
India's foreign ministry said Modi would meet Rajapaksa, who emphasized in the interview that he did not blame the prime minister for the alleged conspiracy.
ECONOMIC TIES
On his first day on the island off India's southeast coast, Modi promised India would develop an oil tank "farm", offered a $318 million railway credit and a $1.5 billion currency swap between the central banks of the two nations.,
"The world sees India as the new frontier of economic opportunity, but our neighbors should have the first claim on India," Modi told lawmakers.
Ahead of Modi's two-day visit, Sri Lanka's new government ordered a review of most Chinese infrastructure projects amid allegations of corruption and expensive loans under Rajapaksa. China has rejected any wrongdoing.
China has built seaports, power plants and highways in Sri Lanka, helping the country rebuild after a long civil war. China's ambassador said this week that Beijing lent money during the 2008 financial crisis when other loans were not available.
Its navy has made forays into the Indian Ocean, including when submarines docked last year in Colombo.
Modi will visit northern Jaffna peninsula on Saturday to launch a housing complex funded by Indian government in the former war zone where Tamil Tiger rebels fought for a separate state in a 26-year war.
India has long urged greater autonomy for ethnic minority Tamils who have close ties to south India, based on Sri Lanka's 13th constitutional amendment introduced by an Indo-Sri Lanka pact in 1987 under former Indian Prime Minister Rajiv Gandhi.
Gandhi's visit that year was overshadowed by an incident in which a member of the Sri Lankan honor guard hit him with a rifle butt. Gandhi was later killed by a Tamil separatist suicide bomber. The Tamils were defeated by the army in 2009.
"We stand with you in your efforts to build a future that accommodates the aspirations of all sections of society, including the Sri Lankan Tamil community, for a life of equality, justice, peace and dignity in a united Sri Lanka," Modi said.
"We believe that early and full implementation of the 13th Amendment and going beyond it would contribute to this process."
(Reuters)