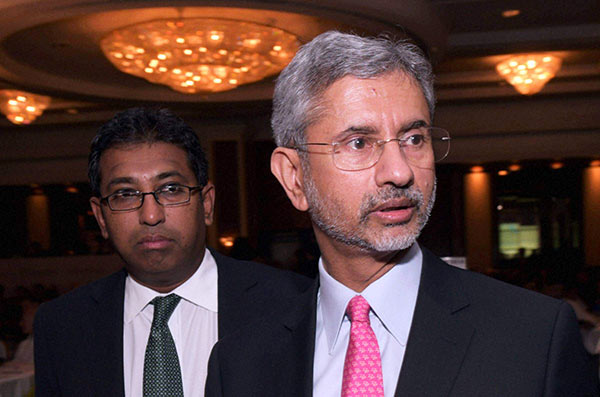 India is to donate eight water bowsers or large tanks and 100 metric tons of rice to Sri Lanka, as part of drought relief for the island country which is headed for one of its worst droughts in 30 years.
The assistance was conveyed by India's Foreign Secretary S. Jaishankar who visited Sri Lanka from February 18-20, for bilateral discussions with Sri Lankan leaders.
Reservoirs in Sri Lanka are reported to be running at 30 per cent or less capacity.
According to a recent survey by the World Food Programme and the government, the rains last year were 23 per cent less than the 30-year average.
The poor rains has also hit sowing. Of 800,000 acres, only a little above 300,000 was planted with the staple rice crop during the last harvesting season.
"This is the lowest cultivation level experienced in Sri Lanka during the last thirty years," the WFP-government joint survey said.
Water bowsers are large water-filled tanks that can also be fitted on wheels.
During his visit, Jaishankar called on President Maithripala Sirisena, and Prime Minister Ranil Wickremesinghe. He also met Minister of Foreign Affairs Mangala Samaraweera, Minister of Development Strategies and International Trade, Malik Samarawickrama, and other senior Ministers as well as Secretary to Ministry of Foreign Affairs, Esala Weerakoon. His visit is part of the continued high level engagement between the two countries and comes ahead of the likely visit of Indian Prime Minister Narendra Modi to the country in May for the Vesak Day celebrations.
Jaishankar also interacted with a Tamil National Alliance delegation led by Leader of Opposition, R. Sampanthan, a delegation from Tamil Progressive Alliance comprising Minister of National Co-existence Dialogue and Official Languages Mano Ganesan, Minister of Hill Country New Villages, Infrastructure and Community Development P. Digambaram, State Minister of Education V. Radhakrishnan, and a delegation from Ceylon Workers Congress led by A. Thondaman.
Jaishankar met with the leader of Sri Lanka Muslim Congress, Minister of City Planning and Water Supply, Rauff Hakeem and leader of All Ceylon Makkal Congress, Minister of Industry and Commerce, Rishad Bathiudeen.
Jaishankar reviewed the entire gamut of our bilateral relations, particularly Indian assisted economic projects and development particularly with Sri Lanka.
Earlier this month, Pakistan airlifted 25 tonnes of rice as relief to Sri Lanka as part of drought relief.
(IANS)