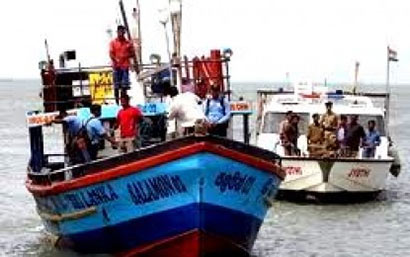 The Indian Coast Guard will release 19 Sri Lankan fishermen who were apprehended on charges of trespassing into Indian waters on Tuesday morning.
Coast Guard ship Vaibhav spotted four fishing boats with Sri Lankan flag about 52 nautical miles off the Kanyakumari coast. The boats and 19 fishermen on them were apprehended.
The boats and their crew were being brought to Tuticorin. Coast Guard sources had initially said the fishermen would be handed over to the Coast Security Group of the Tamil Nadu police.
The ICGS Vaibhav and the apprehended boats were supposed to reach Tuticorin coast later in the night. But it was learnt at around 10pm that the ship had received further orders from the Coast Guard High Command in New Delhi.
"The ship received orders from New Delhi to release the apprehended fishermen with a warning. Hence they are being taken to the International Maritime Boundary Line from where they will be set free," said a Coast Guard official in Tuticorin.
It is believed that Sri Lankan fishermen were let go as the bilateral relation between the two countries is improving post the regime change in the island nation. Recently, Sri Lanka released 81 Indian fishing boats. India released six Sri Lankan fishermen and their 17 boats on February 13 as a goodwill gesture, TOI reports.