India's fullest support to President Sirisena's government – Indian External Affairs Minister
Posted by Editor on September 2, 2017 - 8:27 am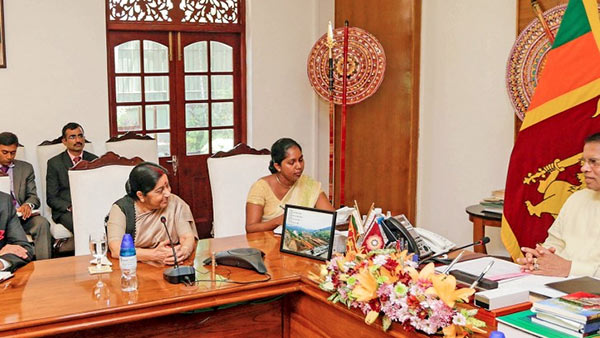 Indian External Affairs Minister Sushma Swaraj said that the government of President Maithripala Sirisena could always count on continues Indian support. She said this when she called on President Sirisena at the President's Official Residence in Colombo yesterday (September 1).
President Sirisena and Minister Swaraj held discussions on issues related to the Indian Ocean Conference currently being held in Colombo. Ms Swaraj, who is also the Vice Chairman of the Conference said that India extends fullest cooperation to the countries in the Indian Ocean region to ensure the security, peace and stability of the Indian Ocean which is the most important supply route for goods and energy needs.
She said that India assures her neighbors that India's vision for the Indian Ocean Region was to preserve its organic unity while advancing cooperation.
The President and the Indian External Affairs Minister exchanged views on ongoing and proposed joint ventures and projects. They said any issue related to them could be worked out as the two countries have a perfect understanding about economic interests as well as internal political situations.
Indian Foreign Secretary S. Jaishankar and High Commissioner Taranjit Singh Sandhu were also present during the meeting.
South Korean Vice Foreign Minister Cho Byungjae, who is leading the Korean Delegation to the Indian Ocean Conference called on President Sirisena today. The President thanked Korea for the recent increase in investments in Sri Lanka. The President discussed the current developments in the region and issues related to Indian Ocean with the Korean Vice Minister.
President Sirisena emphasized the need for close cooperation between the countries of the Indian Ocean region for the collective well being and the mutual benefit of the people in the region.
Korean Vice Minister Cho Byungjie was accompanied by Korean Ambassador Won-sam Chang.
(President's Media)
Latest Headlines in Sri Lanka