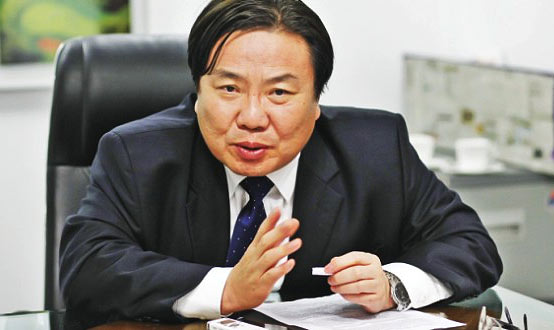 Inclusive infrastructure and social projects in Sri Lanka will help boost the island country's economic growth, while active participation in regional cooperation and integration (RCI) will enhance connectivity, trade and investment with other countries in the region and beyond, Wencai Zhang, vice president of the Asian Development Bank (ADB), told Xinhua in a recent interview.
At the conclusion of a three-day visit to Sri Lanka, Zhang said he was glad to see ADB-funded projects in the island country in general had been well prepared and implemented and would bring tangible benefits to the local population.
In the village of Handapanagala, Zhang spoke to residents who had benefited from an energy project. He also visited a technical college in Southern Province, which offers vocational training courses, and the site of a proposed Integrated Water Productivity Improvement Project.
When asked to comment about projects assisted by China and the Belt and Road Initiative (BRI) in Sri Lanka, Zhang said "In Sri Lanka, BRI has been supporting the country to build major infrastructures, such as highways, ports, airports, and urban development. Inclusive design and quality implementation are key to extend the project benefits to the community and the people. Sri Lanka may take advantage of BRI and other RCI mechanisms such as South Asia Subregional Economic Cooperation (SASEC) to unleash its economic potentials".
The ADB vice president also noted that China's investments in Sri Lanka's social sector such as health, agriculture, irrigation, and education are increasing.
"The development of infrastructure together with social sector projects would jointly improve the livelihood of local people and boost employment and eliminate poverty." Zhang added.
Noting that Sri Lanka faces a number of development challenges including the recent low economic growth compared to other countries in the region and the demand for more structural reforms, Zhang said the ADB is committed to supporting Sri Lanka's continued development drive, with innovative and integration solutions, in line with ADB's new long-term corporate blueprint, Strategy 2030.
Zhang also said in the future the ADB is willing to co-finance with any organization or government who aimed to carry out development projects in Sri Lanka, including China.
As of July 31, ADB's active project portfolio in Sri Lanka stood at 35 projects with a net loan amount of 3.9 billion U.S. dollars.
Zhang said ADB expects to sign a total of 1 billion U.S. dollar in financing for nine projects in 2018. Over the next three years, commitments will total 3 billion U.S. dollars addressing ports, railways, roads, secondary and higher education, electricity transmission and distribution, fisheries, irrigation, wastewater management, drinking water, sanitation, and support for small and medium enterprises.
(Xinhua)